Bicycle Helmets: Regulation or Innovation?
If people won't wear bicycle helmets because they think they look dorky, the typical Anglo-American response is to mandate helmet wearing, even if that means discouraging cycling. In bicycle-loving Northern Europe, however, private carrots are more popular than government sticks. In this post from DeepGlamour.net, I report on a couple of Scandinavian startups that take both safety and consumer tastes seriously.
A couple of weeks ago, I published a WSJ column citing research showing that while bicycle-helmet laws do save lives they also significantly discourage kids (especially teenagers) from riding bikes in the first place. The comments were lively and interesting — as I note in the article, this is a topic that excites all-or-nothing passions — with some people adamantly arguing that appearance is, or ought to be, completely irrelevant: "Riding a bike is not a fashion statement," declared one.
Wearing Yakkay helmets
Except, of course, that for many people it is. As both the WSJ and NYT have reported, bikes are gaining popularity among fashionable urban women. "The idea now is to look like a pedestrian on wheels," a bike retailer told the NYT's Ruth La Ferla. Preferably one liked to be featured on The Sartorialist. The "lovely bicycle" is in, and it doesn't go with the typical bike helmet.
Fortunately, in bike-loving Scandinavia enthusiasts for both bicycles and head-protection have turned not to laws but to design. In my article, I briefly mention Yakkay, a Danish startup that offers stylish helmets with changeable covers. "If you make a stylish bicycle helmet you don't need legislation," says CEO Michael Eide, "and in YAKKAY we wanted to make a helmet people actually want to wear." Now sold in Europe and Canada, Yakkay helmets will be available in the U.S. beginning next spring.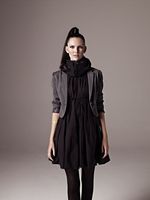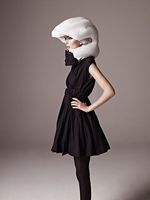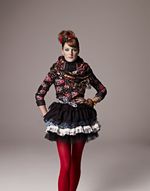 The Hövding: Protection without hat hair (click photo for larger image)

Taking a more radical approach is the Hövding (Chieftain), developed by Swedish designers Anna Haupt and Terese Alstin. An airbag disguised as a collar, it is, as Ariel Schwartz reports on Fast Company.com, "the complete antithesis of the hard-shelled helmets that cyclists have become used to." Six years in development, it will be available next year. Here's a video of how it works:

Photos courtesy of Yakkay and Hövding.