The Tragedy of the Monet in the Basement
Bloomberg View , June 03, 2015
In 2008 Eli and Edythe Broad, the most important art patrons in Los Angeles, shocked locals by deciding not to give their 2,000-piece contemporary art collection to the Los Angeles County Museum of Art -- even though they'd donated $60 million for the museum's new contemporary art gallery. Instead, they're building their own museum in downtown L.A., which is scheduled to open September 20.
The Broads have said LACMA can borrow anything it wants. But it can't have the collection because, like most big art museums, it would inevitably keep the vast majority of the artworks in storage. "We were concerned that if we gave our collection to one or several museums, 90 percent or so would be in storage all the time," Eli Broad told the Los Angeles Times.
It's a valid concern. Untold thousands of pieces stay hidden in museum vaults. Scholars may visit them by appointment, but the art-loving general public gets a look only every few decades, if ever. Is that really the best use of collections subsidized by taxpayers?
Not to Michael O'Hare, a professor at the Goldman School of Public Policy at the University of California-Berkeley. In an iconoclastic recent article in the journal Democracy, he argues that the goal of art policy -- which in the U.S. takes the form of tax breaks given to nonprofit arts institutions and their benefactors -- should be "more, better engagement with art." He acknowledges that "more" and "better" can be defined in different ways. But whatever the definition, he says in an interview, "you have to wonder about all that stuff in the basement."
There's certainly a lot of it. At any given time, most large museums display only 5 percent of their collections. "There is some rotation in and out of storage but, as a rule of thumb, consider the least distinguished object in a gallery, and you can be sure that there are one or two just a teeny bit inferior, and a dozen nearly as good, in a warehouse or the basement," writes O'Hare.
O'Hare makes a strong case that museums need to think harder about their justifications for keeping their collections locked up -- and he has a subversive idea to concentrate their minds on the tradeoffs involved. He wants the Financial Accounting Standards Board or, failing that, state attorneys general, to require that museums list the value of their collections on their balance sheets. "Knowing the monetary value of a large museum's collection raises very salient questions about how that resource is actually being used, and whether that use is the best it can do," he writes.
O'Hare estimates, for example, that the Art Institute of Chicago's collection is worth between $26 billion and $43 billion. The annual return on those assets measured in visitor hours and research -- which he acknowledges is a "coarse calculation" -- is a mere 1 percent. "This is in no way a worst or even a bad case," he writes, "but no established private firm would be allowed to stay in business, or keep its management, if that's all it could earn with the resources investors (that's us, citizens) entrusted to it." He believes that, confronted with such numbers, the business executives who make up museum boards would push the institutions to get more out of their collections. How might they boost engagement with art?
O'Hare then veers into the truly heretical. If the Art Institute sold just 1 percent of its collection by value, he writes, it could endow free admission forever. Visitors could go in and out without paying. Free admission would encourage more people to come more often and to spend more time looking closely at a few works, rather than rushing through at the typical clip of six seconds per piece trying to get their money's worth. Selling unseen artworks could also pay for more educational programs, longer hours, and larger galleries to display more art.
Moving lesser artworks out of the vault and into the market would likely lead to more and better engagement with art on both ends of the transaction.In all of Florida, O'Hare points out, there are only two Monet paintings, while the Art Institute alone keeps six in storage. Maybe a museum in Florida would like to buy one and put it on display.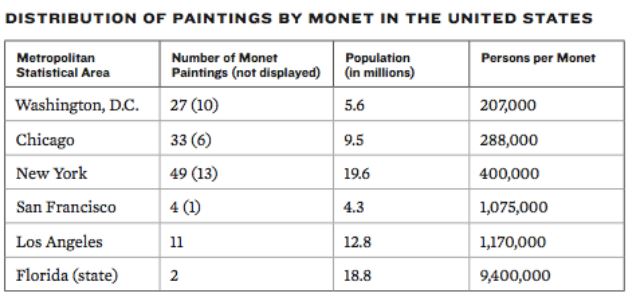 SOURCE: MICHAEL O'HARE
Museums do sometimes sell works from their collection. It's called "deaccessioning." But they can't use the money to reduce admissions fees, improve educational programs, pay guards for extended hours, or install benches or better lighting -- no matter how much these investments might enhance their visitors' experience. If they want to stay in the art museum club, they can only sell art to buy more art.
Any other use violates the "ethics" code of the Association of Art Museum Directors, a group that stringently enforces its art-hoarding cartel. Museums that break the rules lose their accreditation and can't borrow from, lend to, or otherwise cooperate with other museums.
Of course, art museums have some valid reasons to maintain large collections even if the public never sees some artworks. Museums conserve works that might otherwise deteriorate or be lost. They allow scholars to do archival research in a few places rather than chasing around the globe. They're like great research libraries, which own many books that people rarely look at. But library books are more accessible than artworks in a vault, and if a library decides to sell some volumes to improve other services, it doesn't get banned from Interlibrary Loan.
Unlike LACMA or the Museum of Contemporary Art across the street, when the Broad museum opens this fall it won't charge admission. It will also house a "lending library" of artworks available to other museums, including small ones. To fulfill O'Hare's vision of "more, better engagement with art," maybe you have to start from scratch.
The donation included $50 million for the building and $10 million for art.