Signs of Our Times
In under a century, neon signs--part sculpture, part lighting, part billboard--have gone from marketing tool to tacky trash to folk art.
The Atlantic , September 2006
Like the skyscraper, the automobile, and the motion-picture palace, neon signs once symbolized popular hopes for a new era of technological achievement and commercial abundance. From the 1920s to the 1950s, neon-lit streets pulsed with visual excitement from Vancouver to Miami. Large-scale spectaculars—tropical fish up to forty-three feet long hypnotically swimming past the Wrigley Spearman, or acrobatic Little Lulu lighting up each letter of a giant Kleenex box as she tumbled across it—provided free entertainment, while the humblest shop signs turned the urban night into well-lighted public space.
Neon's glowing colors and sinuous shapes haven't changed significantly since the 1920s, but the medium's meanings, and its fortunes, have shifted dramatically over the decades. The history of neon signs suggests how thoroughly entangled memory, identity, and hope are with even the purest sensory pleasures—and how truly subjective are the clashing tastes that shape aesthetic regulations.
In their heyday, neon signs "were very much a symbol of modernism," says Adolfo Nodal, the former general manager of the Los Angeles Cultural Affairs Department. "They became a symbol of the new age, the Jazz Age, the new era that was sweeping the country." Nodal spearheaded a campaign that over the past decade has restored about 130 of the city's historic signs, mostly the long-neglected rooftop markers of apartment buildings and hotels. "They're beautiful objects in their own right," says Nodal, "and lighting them brings back … a more beautiful time."
Neon inspires passion. It still exists today largely because of the efforts of enthusiasts, mostly older baby boomers with fond memories of roadside America. They nurtured the craft back to life and preserved the "garish" signs that zealous civic beautifiers had tried to wipe out. In the late 1970s, neon "was a little bit like the last buffalo tied up outside the Indian gift store somewhere—almost extinct, certainly thirsty and hungry," recalls the artist Rudi Stern, whom many neon lovers credit with saving the medium. In 1972, Stern founded Let There Be Neon, a gallery and workshop in New York, which trained artists to use neon and promoted it as an artistic medium. "I wanted to turn people on to the beauty of it, to the creative, expressive possibilities of it."
Today, neon signs are treasured by collectors, displayed in museums, and encouraged, even subsidized, by towns hoping to add zip to districts that go dark at 5 p.m. When the automotive specialist RM Auctions held a memorabilia sale this past June, a Thunderbird Motel neon sign fetched $27,600, one for the Cloud 9 Motel went for $21,275, and just the star from atop an old Holiday Inn neon sign brought $3,220. "These things that formerly had no value are now seen as folk art," says Len Davidson, a sign maker and the author of Vintage Neon.
In 1983, Davidson gave up an academic career in sociology to pursue his love of neon. He has turned his vintage-sign collection into the Neon Museum of Philadelphia, which displays signs in businesses around the city. Elsewhere, neon has found permanent quarters, notably in the American Sign Museum in Cincinnati, founded in 1999, and Los Angeles's Museum of Neon Art, founded in 1981 to preserve old signs and exhibit fine art that incorporates neon. All this neon appreciation represents a major change in attitudes. Beginning in the 1960s, neon signs were persecuted throughout the United States and Canada—torn down and outlawed by city officials determined to avoid the "carnival atmosphere" and "visual clutter" of such blatant commercialism. "The signs and the billboards are bullying you thousands of times a day," Alderman Warnett Kennedy told the residents of Vancouver, calling on "the more thoughtful citizens" to "become nuisances on the subject of ugliness." Soon enough, Vancouver's streets, formerly awash in color, started to go dark. The anti-neon movement reflected both elite taste and consensus ideology. The bright colors and pulsing animation of the signs defied the formal geometry of aristocratic modernism and the tidied-up corporatism of the Galbraithian "New Industrial State."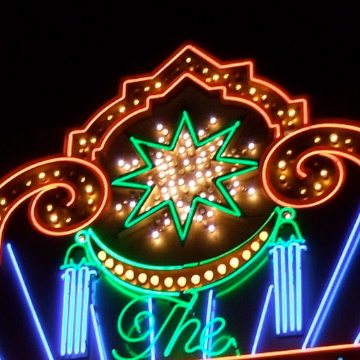 Dan Holzschuh, a Dallas-area sign maker and collector, remembers a trade-magazine article from the early 1970s documenting the trend with photos of a crane "cleaning up" a downtown street by removing all the neon signs. Then "it shows trailers going to the landfill and dumping, dumping all these neon signs."
By the 1970s, neon was almost dead. The skilled craftsmen who could wire signs and bend glass were retiring without successors. "They were hardly even training anyone anymore," says Tama Starr, an old friend of mine and the president of Artkraft Strauss in New York, the company that for three generations built the neon spectaculars of Times Square. In the 1970s, the main demand for her family's wares came from porn merchants—like the red neon curtains of the Pussycat Theater façade—a relationship that made neon seem even less reputable. The signs also fell victim to the symbolic politics of the energy crisis. With Americans turning down thermostats and sitting in gas lines, big blinking signs seemed wasteful—even though they weren't. Neon signs don't consume much power, but they look like they do. A cousin of fluorescent lighting, neon is actually quite energy efficient. A neon tube glows coolly when high-voltage, low-amperage electrical power excites the gas within it. The color depends on which inert gas the tube contains—neon for red, argon for blue—and whether additives like mercury are present. For more variety, the glass itself can be colored or a fluorescent coating added.
The low point for neon came in 1982, when Holiday Inn did away with its signature "Great Sign," replacing the neon extravaganza with a forgettable green plastic box. Of the thousands of Holiday Inn signs that once shone on America's highways, only one remains to be seen, in the Henry Ford Museum, in Dearborn, Michigan. What good taste and aggressive regulation couldn't squelch, corporate image making did. Out went lighted tubes, and in came bright plastic signs or, a bit later, individual plastic letters discreetly illuminated by internal neon tubes.
Neon had a resurgence in the 1980s. Cities including Vancouver and San Diego reversed their anti-neon ordinances, and the Times Square spectaculars reclaimed their dignity when Japanese electronics companies reimported the medium from Tokyo. But today neon is threatened by a new technology: low-maintenance, easily programmed light-emitting diodes, or LEDs, which often use even less power than neon and glow more sharply. A year ago, one of the country's most famous neon signs, the pulsing Citgo logo near Boston's Fenway Park, was replaced with an LED copy—not quite as elegant, perhaps, but able to survive a Boston winter without repairs. Advertisers prefer LEDs and video screens, which are visible even in the daytime. Instead of wooing customers with mesmerizing signs of identity and presence, these new media display constantly changing information, from brand announcements to recycled television commercials. With neon, "you were looking at a piece of art, and now you're looking at a manufactured object," says Starr. Most of those artworks are long gone, carted to the dump to be crushed into compact cubes of glass and steel. Storage problems make neon signs the most ephemeral of commercial arts.
Bob Jackowitz, the vice president of Artkraft Strauss, recalls one of his favorite creations—four nine-foot-high vertical sine waves, each a different color, that danced in and out of one another, perfectly synchronized so they never collided. "If it was at MOMA, it would be a piece of sculpture," he says. "If it was in front of an office building, it would be functional art. But it was in a disco, so it was a lighting fixture." When the disco was torn down, Jackowitz was asked if he wanted to reclaim the piece. "I did want it," he says, "but where was I going to put it?"
Artkraft Strauss itself preserved largely what the workers in its factory happened to find amusing and portable enough to hang on the wall. These remnants—mostly individual letters or small pieces from bakeries and bandstands—went on the auction block in May of this year after Starr sold Artkraft's sign-construction and -maintenance operation to Clear Channel (which hired the workers but won't be building new neon signs). As bidders were paying $8,365 for the nearly six-foot-high i from the A&E Biography sign that hung high over Columbus Circle from 1998 to 2005, and $1,793 for a restaurant's neon caricature of Bob Hope, a crew was dismantling the glass-bending room at the Artkraft factory.
Starr believes that neon had a good run but has no future in the sign business. "There's no way neon is going to come back," she says. "It's very high voltage. It's dangerous. It involves gases. You've got mercury. To dispose of it is a big pain in the neck. It's expensive. It's all handmade." Artkraft Strauss's business now consists only of designing signs, making deals, and maintaining a huge archive of photos and other historic materials. Of neon, she says: "I like it a lot, but I just can't see it."
But a medium as beloved as neon doesn't disappear—it becomes an art form, justifying special materials and high prices. "We're up 30 percent for the year, and 90 percent of what we do has neon in it," says Jay Blazek, owner of Western Neon in Seattle. Blazek grew up in the business—his father ran a neon school in Wisconsin—but, unlike the traditional sign maker, he takes a decidedly contemporary, upscale approach. Western Neon not only makes signs but also designs subtle interior lighting, using neon in curved ceiling recesses, for restaurants and other businesses. Two of Blazek's fifteen employees are full-time designers, and the shop includes gallery space. "The only way that I can forge my destiny in this business is by creating really interesting things," says Blazek. "If we just make square boxes and channel letters, other things will come along that are new and improved."