In her post on the evolution of prom fashion, Kit asks, "When did it become OK to stop looking like a little girl and start looking like a woman?" The Costume Institute's current exhibit, "Model as Muse," offers some high-fashion perspective on the question. At the exhibit's outset, in the late 1940s and 1950s, no one aspires to look like a little girl but, rather, like Sunny Hartnett at the roulette wheel or Audrey Hepburn in Funny Face.
Glamour is sophistication, Paris is its capital, and the exhibit's soundtrack is "C'est si bon." Everyone looks quite grownup.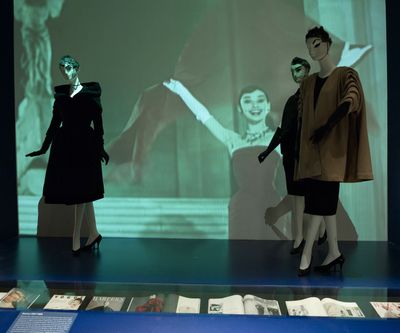 Then comes the Youthquake, and the wide-eyed, long-legged childlike Twiggy ideal. 
Hairstyle aside, that's the look behind Kit's mom's 1967 prom attire, with its shift shape. (Paco Rabbane's dress here is from 1967, but kids aren't going to wear metal plates to the prom.) Glamour lies in youthfulness.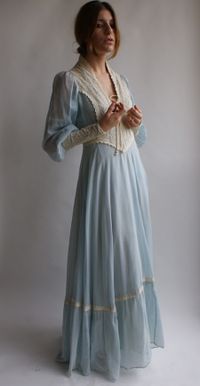 Museums deal in high fashion, and the youth culture that shaped clothes through the '60s and '70s didn't always make it to the runways and history books. So, to answer Kit's question fully, I need to deviate a moment from the museum tour and introduce my own prom experience.
Ours was a junior-senior prom and, thanks to older boyfriends, I went every year from 1975 to 1978. The first two years I wore a Gunne Sax dress and a Gunne Sax knockoff I made myself. This hippie-influenced prairie-romance style isn't represented at the Met, but it was huge at the time and still remembered fondly in prom-related blog posts. (There's a lively Ebay trade in vintage Gunne Sax dresses.)
Dressing in Gunne Sax style didn't exactly make you look like a little girl. Rather, it created a feminine ideal of the romantic past--very Renaissance Faire, but with lighter fabrics. This dress from Ebay is a good representation of what I wore to the prom in 1975 and 1976. (The style is, as I remember it, almost exactly like my 1975 dress, while the color mimics my 1976 creation.) This nostalgic glamour celebrates not youth per se but innocence: a "simpler time," concocted from Victorian Medievalism and American agrarianism. Like all historicist fashion, it also traffics in the glamour of escape.
The style that ended my own romance with romance--and that led to the stable grownup prom look Kit noticed--came from Halston: simple, sleek, sexy forms in great, often synthetic, fabrics, perfect for a night at Studio 54. The Met shows them in a reconstructed "VIP Room," along with contrasting styles from the same period by Yves Saint Laurent.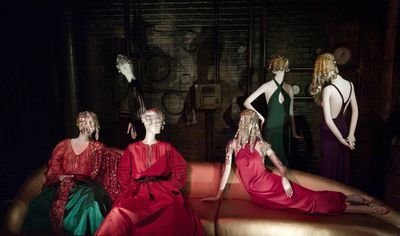 As the oldest baby boomers hit 30, the styles they influenced finally reached adulthood, defined differently from the polish of the 1950s. Halston-influenced styles did away with bras, making them the complete repudiation of the foundation-dependent garments of the 1950s. A Halston woman might not be a lady, but she definitely wasn't a little girl. (This black halter Halston dress from Decades would be right at home at Kit's prom.) Here, glamour comes from sexiness and celebrity--the glamour of being noticed and desired.
Studio 54 was a transient institution, but Halston's styles proved classics, continuing to inspire dressing and design three decades later. (Check out this post on what this influence suggests about the foolishness of strengthening copyright protections for fashion.)
[Gallery and exhibition photos courtesy of the Costume Institute, Metropolitan Museum of Art/Anna-Marie Kellen. Twiggy in dress, spring/summer 1967, by Yves Saint Laurent (French, 1936-2008), Vogue, March 15, 1967, Photograph by Bert Stern (American, born 1929). Photograph by Bert Stern/Courtesy Staley-Wise Gallery, New York. Paco Rabanne (French, born Spain, 1934), Dress, 1967, Metal chain-linked armor-plated mini dress formed from square metal plates linked by metal loops, Courtesy of The Metropolitan Museum of Art, Gould Family Foundation, 2008]