Why Is Princess Glamour So Persistent?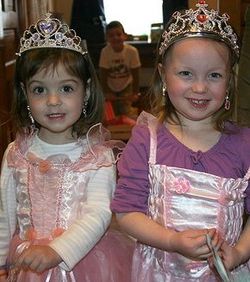 Loyal DG fans will recall my earlier posts (here and here) on why little girls play princess. For my book research, I'm still looking for princess memories and insights from parents and today's little princesses. But given the prominence of princess news of late--I didn't even mention the engagement of Prince Albert of Monoco to former Olympic swimmer Charlene Wittstock (which, not being a royal watcher, I learned of when I saw the Tatler's cover story)--I took up the subject in my latest WSJ column. I appreciate your comments, here or on the WSJ site.
I admit it. When I was growing up, my father called me "Princess." Routinely. Even when I was in high school.
This was strange, I now realize, and not just because I was more nerd than girly-girl. The United States has been a republic for more than two centuries. We aren't supposed to have princesses. Yet the archetype remains both persistent and profitable.
Princesses are everywhere: under the tree at Christmas and on the sidewalks at Halloween, atop birthday cakes and in videogames, on bedspreads and in perfume ads. They provide themes for baby showers, quinceañeras, even weddings. The phrase "every little girl dreams of being a princess" generates more than 300,000 Google matches, only a few of which concern Kate Middleton's impending marriage to Britain's Prince William.
"Princess" is not just a royal title. It's a powerful, and popular, ideal.
Read the rest here.
As the photo above, courtesy of Flickr user abbybatchelder under the Creative Commons license, illustrates, the little-girl glamour of princesses lies in the imagination of those who imitate them. The kids dressing up as princesses aren't glamorous. They're cute.