Fresh, Clean, & Local: The New American Restaurant Glamour
Kit Pollard, long time reader, first time guest blogger, contributes to DG's Week of Food.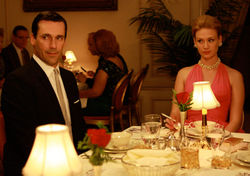 When Don Draper takes his wife and clients to dinner, it's cocktail attire at Lutece, shorthand for glamour in 1960s New York. Dinner at Lutece was all mousseline of pike in lobster cream sauce and beef Wellington – heavy, fancy, heady, certainly French – and nothing you would try at home.

So what's today's equivalent? When the big clients come calling, or the Don Draper of today (does he exist?) needs to placate a ladyfriend, which hotspot is on speed dial? Is it Momofuku Ko, a place creative but so small that a reservation is next to impossible? A four-star powerhouse helmed by somebody so famous his name gets the Madonna treatment? (Think Daniel, Jean-Georges, Morimoto.) Or is it most impressive to make the trek out to Blue Hill at Stone Barns, where "fresh, clean, local, American flavors" (TM Top Chef "cheftestants") are so fresh and clean and local that they're culled from the farm on the property?

These are the places that represent the new American restaurant ideals. As diverse as they are, they've got at least one thing in common: it's unlikely that their customers are polished to the standards of Betty and Don Draper or the maitre'd at Lutece in 1963. These days, it seems like jeans are de rigeur for dinner at even the poshest places. In Baltimore, where I live, there are only two restaurants left that require men to wear jackets. Neither one is the kind of place you'd take a date you wanted to impress – unless, of course, that date was your grandmother. In which case, she'd probably be very impressed, indeed.
So what is the new definition of restaurant glamour? Does "glamour" even still exist in the restaurant world or did Kitchen Confidential
ruin it by revealing the profane man behind the curtain?

Call me optimistic, but I think the glamorous meal is still within reach. It might have evolved a little since 1963 (and believe me, I mourn the passing of the Betty Draper wardrobe), but maybe the food has taken center stage over the attire worn while eating it. Much like an haute couture gown, food that is aspirational (think a tasting menu at Per Se, a private table at the Inn at Little Washington, or a culinary adventure at El Bulli) is the new definition of culinary glamour.
That said, even the most fabulous food has become more democratic over the past decade. It might still take 18 months to get a reservation at The French Laundry, where the prices are not for the faint of pocketbook, but the food's been demystified. You can always buy the book
and make it at home.
And these days it really is all about the food. Décor, service, the notion of a celebrity behind the grill (or at least behind the concept) – they add to the experience, of course. But as foodie culture has exploded, so has the idea that the food comes first. The most fabulous food these days is creative and "authentic" all at once.
Sure, it's nice to get a great see-and-be-seen table, but you're more likely to impress your clients with your stories of tapas bar-hopping in San Sebastien than with your pull at the hostess stand. Food today gets glamorous when the story behind it is full of history and people and, hopefully, a little drama.
Last week, Kate and I emailed a little about food and glamour. She said to me, "Remember when caviar was glamorous? And now it's marrow bones." The definition of culinary glamour has evolved from mother-of-pearl spoons daintily dishing up the food of Russian royalty to imitating early man, lustily, and probably messily, digging marrow out of the bones.
Betty Draper's chiffon and silk wouldn't have stood a chance against the pleasures of marrow…luckily, my trusty Seven jeans do.
Kit Pollard blogs at Mango and Ginger.