What To Wear To The Grammy Awards?
The awards season provides various fashion spectacles, and the Grammys are usually the most outrageously flamboyant. This is especially true now that music videos and elaborately costumed stage acts have become part of the popular music business. Artists coming to the Grammys have to choose who to come as—their onstage persona, or a person glamorously dressed to attend a fancy awards ceremony.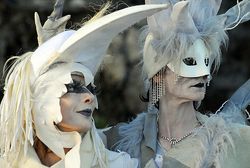 Lady Gaga has become so known for outrageous costumes that she would risk disappointing her fans by attending in more traditional attire. Her costumes are so singularly outré that it would difficult for others to wear similar clothes without seeming to imitate her. Her Grammy costumes were on most of the worst-dressed lists that I saw on the internet, but viewing her outfits as clothing rather than as costumes misses the point. She costumes herself onstage and offstage as "Lady Gaga." Her costumes remind me of the commedia dell'arte tradition, in which characters like Columbina wear masks and heavy makeup, as seen in the carnival photos at left and below. Like Gaga, the Columbina figure was typically portrayed as bold, experienced, and frankly erotic.

Country-western women, on the other hand, are free to dress like glamorous movie stars. Their performance costumes range from jeans to beautiful evening gowns, and in their videos they are much less prone to place themselves in surreal environments calling for surreal costumes. Taylor Swift attended in a lovely gown that would have been appropriate for the Oscar red carpet.
Rock and rap stars have an interesting problem. With some notable exceptions, their performance costumes tend to emphasize anything but fashionable haute couture clothing. They usually perform in some variation of urban street clothing, sometimes made over into something flashy for the stage. So for them to "dress-up" in a way that suggests a Vogue or GQ sense of style might seem to distance them from their fan base.
Some performers solve this problem by not trying to "dress-up" at all. Others manage to put together outfits that retain a sense of "street," but still look stylish. Unfortunately, in other cases their efforts to "dress-up" end up making them look like night clubbers, pimps, hookers, drug dealers, or people on their way to a prom in a horrible dress or tux. Others, such as Rihanna, have a personal interest in high fashion, and use awards ceremonies as a reason to wear their finest. All of the women mentioned can be seen in the following video:
[Photo of the bird couple by Nahlinse. Photo of the masked woman by Alaskan Dude. Both used under the Flickr Creative Commons License.]