What Happened To Hollywood's Most Glamorous Costumes?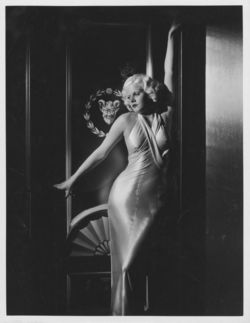 Over at Silver Screen Modiste, Christian Esquevin has a second excellent post on the Debbie Reynolds costume auction, which includes a sad note on why the collection was so heavy on period costumes. Debbie Reynolds bought the foundations of her collection as when MGM had the mother of all garage sales in 1970, dumping its inventories of props, costumes, photographs--anything that could be sold for quick cash. (Twentieth Century Fox did the same a year later.) Christian writes:
Most of the studio's wardrobe at that time consisted of period costumes, which is by and large reflected in the strength of Debbie's collection. That MGM had many years earlier dumped many costumes in its wardrobe collection is little known. Due to the small value that was ascribed to contemporary fashion, and the lack of its re-usability in later films, many crown jewels of costume were destroyed. By the time of the 1970 MGM auction, many of those late 1920s and 1930s costumes were already gone. These had been the costumes that created the very image of glamorous Hollywood movie-stars, and that started fashion trends around the world. The Adrian-designed gowns worn by Jean Harlow, Greta Garbo, and Joan Crawford that defined the look of glamour were mostly discarded. It is informative to consider the sale of Debbie's collection as reflecting the earlier MGM auction and the even earlier destruction of those movie costumes.
A few of those famous gowns did wind up in the hands of collectors or museums. The Museum at FIT owns a few Adrian costumes that came directly from MGM, including the magnificent dress of red pavé bugle beads on silk crepe from The Bride Wore Red, a black and white movie. But most of those Golden Age costumes were simply used and reused until they were rags. As I write at the end of my Bloomberg column:
Yet even as scholars and fans mourn the collection's breakup, dreaming of the museum that might have been, they admit the importance of private collectors. These enthusiasts may not all preserve artifacts in museum-quality condition, keeping costumes unaltered and mostly in the dark. But without the sometimes-eccentric people who buy at auctions out of their own passion to own a piece of movie history, no one would have saved these objects in the first place.
"Thank God for them," says Deborah Landis. "Thank God for Debbie. We would have nothing. It would have been rags. That was the old way. We used everything until it fell off the hanger. That was the tradition in Hollywood."
[Jean Harlow Dinner at Eight publicity photo by George Hurrell © Pancho Barnes Trust Estate Archive and used with permission. Do not copy it to your own site.]