What Glee Gets Right About Glamour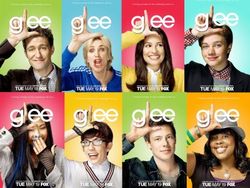 Unless you've been hiding in a cave, you've probably heard of Fox's new crazy big hit show, Glee. The show, which is one part Freaks & Geeks, one part musical theater, and one part Saved by the Bell, has 3.1 million fans on Facebook (I am one of them), has spawned countless blogs and YouTube tributes, and is typically the first or second most watched show in its timeslot, especially among the coveted 18 to 49 demographic. We are, it appears, a "Gleek" nation.
The show's website calls Glee, "a musical comedy that follows and optimistic high school teacher as he tries to transform the school's Glee Club and inspire a group of ragtag performers to make it to the biggest competition of all: Nationals" – a description so understated it's almost funny, considering that Glee is a show that involves Hammer pants, Lady Gaga, and Jane Lynch in a tracksuit. Glee understands how to use theatricality to amuse.
Plus, Glee understands the power of glamour, and this is why it – a show about the geekiest kids at a suburban Ohio high school – really works. It's funny and over the top, but viewers relate to the characters in their insecure high school kid incarnations, so those same viewers experience the elation when the kids start singing and transform into glamorous stars of the stage.
So what is it, exactly, that Glee does right when it comes to glamour? At least five things:
Clothes (and hair) matter. In the Power of Madonna episode, Jane Lynch's character, Sue Sylvester – a ball-busting cheerleading coach – is made over in the image of Madonna, the Vogue years. In the blink of an eye, Sue transforms from butch gym coach to Madonna at her most Old Hollywood. She's got the same face, but thanks to her new clothes and fancy hair, a whole new persona.


Good lighting is important. Many of the show's musical numbers take place in a bright classroom, or in the hallways, but when the story requires some drama, they get on the stage. The creators of Glee understand the power of a well-placed spotlight, and they use it.


Music can transform. Lea Michele's character, Rachel, is a familiar one: the kid with big dreams who's so ambitious she's annoying. But when she opens her mouth – to sing, not to talk – she transforms from an obnoxious girl into a desirable and glamorous woman.


There's power in belonging. One of Glee's central conflicts is between Sylvester's "Cheerios" (the cheerleaders) and the geeky glee club. In some ways, the show mocks traditionally powerful high school cliques, exposing the insecurities and faults of the cheerleaders and football players. However, Glee isn't just a high school geek's revenge fantasy – in this show, the cheerleaders do win a lot and nobody apologizes for wanting to fit in.


Glamour has multiple faces. Yes, there is power in belonging and the Cheerios, with their ponytails and uniforms, are glamorous in a pretty, typical way. But they're only one image of glamour on the show – each character has his or her own brand of glamour. Take Kurt and Puck, for example. Kurt is a dramatic and flamboyant gay guy, while Puck is a football-playing, cheerleader-bagging badass. They're wildly different male characters, but they're viewed through the same lens, so they're equally glamorous.
Tuesday's finale, in which the kids compete at Regionals, promises to be standard Glee fare: lots of heart from the kids, attitude from Sue Sylvester, a few cheerleading uniforms, and a handful of soaring song-and-dance numbers. And glamour, of course – on the surface, underneath, and twisted throughout.