Geek Glamour: The Sunset Boulevard Of Superheroes
As I've suggested in The Atlantic, Watchmen
is the Sunset Boulevard
of superhero comics: a mythic debunking that, for all its revisionism, depends on the audience's appreciation for the original glamour of its subject.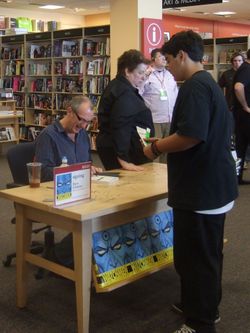 Dave Gibbons, the graphic novel's illustrator, was at Borders in Century City yesterday. After the long line of fans had cleared, I asked him a few questions about the glamour of superheroes. He talked enthusiastically about the transformation represented by superheroes' costumes and gear and about the glamour of heroism himself. But, most emphatically, he disagreed with my use of the word debunk to describe Watchmen's relation to superhero glamour.
"Alan Moore and I loved superheroes," he said.
The original Watchmen, like most comic books (or Dickens novels), came out in installments. Whenever an issue ended on a particularly bleak or revisionist note, Gibbons said, they'd start the next one with a glimpse of the wonder of being a superhero.
In an
interview
with Adam Rogers of Wired, Gibbons praised the Watchmen movie for capturing the geek glamour of superheroes:
"I think because Dan Dreiberg, Nite Owl, is kind of the geek superhero. He's the one that—well, he's the one that I would be, perhaps the one that you would be as well. I just love all of those gadgets and the car, and the whole feeling of that underground lair I thought they captured beautifully in the movie. And the whole, you know, glamour of being a superhero. As much as Watchmen is set in a real, kind of gritty world, there is that wonder of being a superhero, that joy you must feel when you sail off into the night in your wonderful machine and your cool costume. I think that's been captured wonderfully."
Not to mention Silk Spectre's perfect hair, which is as impractical as the capes Edna Mode banned in The Incredibles
, but somehow never gets in the way.
Win Watchmen tickets: I have two tickets to the 12:15 a.m. show on Friday (just after midnight Thursday) at the Arclight in Hollywood for the first DG reader to send an email telling me which superhero you think is most glamorous and why. The tickets are in the regular theater, not the dome, in the middle of the 2nd row, seats B-16 and B-17. To enter, send your email to Virginia-at-DeepGlamour.net. Entries may be published in a future DG post.