Vogue Decides Black Is Chic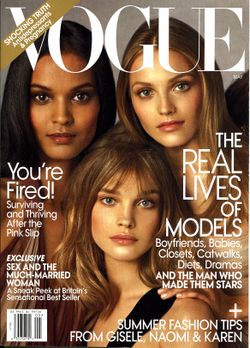 André Leon Talley notwithstanding, Vogue is not a magazine known for showcasing black faces. They leave that sort of daring to the Italians.
Or at least they used to.
Judging from the May issue, it appears that Vogue has discovered black people. It's not just putting Michelle Obama on the cover--and even letting her wear her own clothes. This issue actually includes two black models among the nine on the gate-fold cover. Inside, there is, of course, a paean to the new administration's influence on Washington style, with a photo of social secretary (African-American) Desirée Rogers in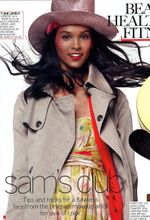 Carolina Herrera, with the reassurance that "For the best flowers, one still goes to Sue Bluford, who did all of Katharine Graham's arrangements." (Some things don't change, including the bold-faced names.)
Kanye West--you may have heard of him--gets a spread as the "man of the moment." Venus and Serena Williams are celebrated. And--most amazingly of all--there's a piece on Sam Fine, the "go-to makeup master for women of color," complete with tips and a plug for his new DVD (supposedly available at Amazon, but I can't find it. Try your luck
and let me know if you have more success.) Here's one corner of the economy that seems to be getting some Obama stimulus.