Visual Acoustics: Julius Shulman's Modernist Glamour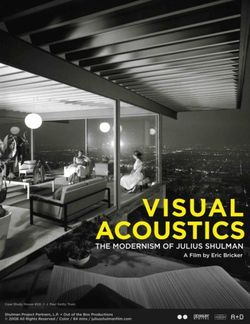 Architectural photographer Julius Shulman created some of the most glamorous images of mid-century architecture and mid-century Los Angeles. In his most famous photo, of Pierre Koenig's Case Study House No. 22 in 1960, two young ladies converse in a glass-enclosed living room that thrusts out toward the sprawling city grid of tiny lights. The architecture critic Paul Goldberger called it "one of those singular images that sums up an entire city at a moment in time." Commentary on the photo often describes the women as models or dressed in the height of style ("elegantly dressed," wrote Goldberger). In truth, they were neither, as Shulman explained to me when I was reporting this Atlantic column. The girlfriends of two architects who worked for Koenig, they were wearing ordinary, comfortable summer dresses. The photographer's art made them, the house, and Los Angeles itself glamorous—symbols of the ideal life.
Now 98, Shulman is not only a great photographer but quite a character, and the perfect subject for the new documentary film, Visual Acoustics. Alissa Walker interviews director Eric Bricker about the film, which will be screened at the Dwell on Design conference in L.A., June 26-28.
Thanks to Alissa,  Dwell is offering discounts to DG readers who'd like to attend the conference:
Up to 60% savings on Exhibition Plus - Save $15. Code: DWELL22C
Up to 33% savings on Dwell Conference Plus - Save $50 (not valid with Early Bird). Code: DWELL982U
The film's trailer is here. A list of future screenings, including one in Miami this coming Thursday, is here.