Vintage Week: DG Q&A With Liza D. Of Better Dresses Vintage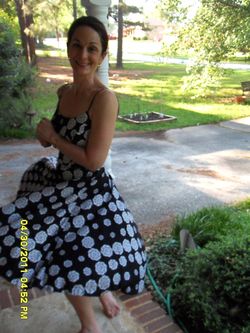 Born in 1965, Liza D., the proprietor of the two-year-old online shop Better Dresses Vintage, grew up in the New York suburbs as the daughter of an advertising copywriter ("a real-life 'Mad Man,'" she says). "Growing up," she says, "the emphasis was on education, the arts, and manners. My mom was a very strong influence. She taught me about taste, and all aspects of etiquette." An accomplished seamstress, her mother also taught Liza how to recognize and appreciate quality garments—knowledge that she now turns to hunting for vintage treasures. (Here she wears a 1950s sundress at home.)
DG: How did you get into the vintage business?
Liza: My lifelong appreciation of all things lovely, old-fashioned, and well-made led me to buy and wear vintage clothing. Not exclusively or every day, but enough to seek it out as both superior to, and more affordable than, most modern options.
After having my first child, I left my full-time position as a medical journalist at WebMD, and began doing part-time contract writing and editing from home. I'm also a ballet teacher, although I haven't taught for a while and miss it terribly. Anyway, as I continued to shop for and enjoy vintage clothing, I noticed the growing popular interest, and realized I could turn my longtime hobby into a business. I was fortunate enough to be able to reduce my contract work, and focus on researching all aspects of starting up an online shop. Of course, the best part of the process was acquiring the stock! Everybody loves treasure hunting. And I enjoy meeting people and hearing their stories.
DG: Who are your customers?
Liza: I'd say there are two main groups, with plenty of overlap: the youngsters who think vintage clothes are "cooler," and the oldsters (including me) who know vintage clothes are "better." The younger customer wants to be hip. The older customer wants to recapture a look and feel which they may, in fact, have never experienced firsthand. But they know there's a certain sense of elegance, of propriety, of beauty, that you cannot get from a "Real Housewives" dress. They are looking for glamour.
My customers range in age from tweens to retirees, with the bulk falling somewhere in the middle (college- to middle-age). What I find most wonderful is that they come from around the world, with half of my sold items heading to the UK, Scandinavia, Europe, Asia, and Australia.
A current sample of Better Dresses Vintage: a beaded rayon dress from the 1940s, a Mexican circle skirt and top from the 1950s, and a wool boucle suit from the 1960s
DG: How do you define vintage?
Liza: Good question! And one that generates heated debate among those of us who deal with, and in, vintage! I think we agree that the defining factor is the generational difference. Items from an earlier generation are vintage, items from the current one are not. But what's a generation? That depends which dictionary you consult. Sure, it's the span between parents and their children, but is that 20, 25, or 30 years? For me, it would be 35-40+ years!
Personally, I consider true vintage to be at least 25 years old. Online selling venues (eBay, Etsy, et al.) use a more liberal definition. Some venues, in an attempt to cash in on its recent surge in popularity, are suggesting vintage be defined as 10 years or older! But these venues are using the term as just another key word—a tag meant to generate search-engine hits and increase profits. The more they can lower the standard and expand the definition, the better for their bottom line. Sure, we sellers want to make money, but those of us who appreciate the difference between true vintage and old clothes are using the word "vintage" differently. For us, it's a meaningful descriptor, not merely a search term.
DG: Whom does wearing vintage appeal to?
Liza: 1) Those who appreciate quality. Most, if not all, garments produced a generation (or more) ago were of superior quality to those produced today. Even the most pedestrian items, intended for and marketed to working-class people, were made to last. If a dress or skirt or shirt has survived wearing and washing for 50 years, there's a very good chance it will survive a good while more, without too much effort or special care. If you have $60 to spend on an outfit, how should you spend it? You can buy the hot new trend at the mall or local big box, and wear it a few times until it falls apart, or starts to look weird because the seams have shifted or the fabric pilled in the wash. Or, you can take that money and buy yourself the vintage version—one that not only inspired the current trend, but will probably be around, looking just as good, the next time that trend rolls around.
2)Those who value individuality. It's everyone's fashion fear—showing up at an event in the same outfit as someone else. With vintage clothing, the chances of this happening are very slim, indeed. In a way, wearing vintage is like having your own unique, custom-made wardrobe—only much more affordable. And savvy vintage shoppers know that you can be "on-trend" in vintage as easily as you can in cheaply made, or prohibitively expensive, modern equivalents. Check out the Vintage Fashion Guild's Vintage Inspiration series to see how today's hottest trends are inspired by vintage.
3) Those who appreciate designer quality, but not designer prices. Most of us can't afford a couture gown or even a ready-to-wear designer outfit. But if it's style and quality, not conspicuous consumption, you're after, then vintage is a terrific option. Yes, it's true that label-conscious vintage shoppers have upped the demand for certain vintage brands to the point they are no longer affordable to the average buyer. But there is still plenty of top-notch vintage to go around. And if you're willing to look beyond a particular label, logo, or designer, you can get the quality and craftsmanship you seek at a fraction of the cost.
4) Those concerned about the environment and social justice. Vintage is the embodiment of "Reduce, Reuse, Recycle." Why buy new, when you can get a better-quality, made-to-last garment that's uniquely yours (and, more often than not, was Union-made under fair labor laws right here in the U.S.A.)? Time and again we hear about the deplorable conditions in overseas garment factories. Who wants to wear something made by underpaid, overworked children? Not me. And not my customers. Vintage clothing is entirely guilt free.
DG: What inspired the name and logo for Better Dresses?
Liza: Oh, that's easy. The entire story is on my "About Us" page. Here's the relevant portion [slightly edited because the photos were rearranged—vp]:

Wondering where the store got its name? Well, some of you may be too young to remember, but not that long ago, any fine store that sold a variety of goods had a Better Dresses department. A few still do. Here are mid-century photographs, peering into the better dresses department at two different stores. The one on the left is somewhere is in suburban New Jersey, the one on the right in the mid-west. Neither a location associated with the finer things in life. Yet each, to me, could be a glimpse into heaven.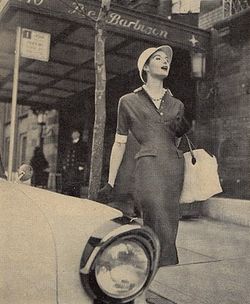 Our logo was inspired by this photo of a fashionable young woman walking in front of the famous Barbizon Hotel in Manhattan (having stayed there myself I can tell you, you need a waistline that tiny to fit comfortably in their rooms)
I have no idea who she is, where she's headed, or why she's there. But she perfectly captured the mid-century look and feel I wanted for my shop, so I based my logo around her.
DG: Is wearing vintage more popular among younger people (however you want to define "younger")? If so, why?
Liza: I'd say that the more recent decades are most popular with younger customers, probably because, as mentioned above, those years just before they were born are seen as "the good old days" and carry a certain cache or hipness as a result. And of course, popular TV series such as Mad Men (60s) and Downton Abbey(10s), and movies such as Titanic (10s) and The Great Gatsby(20s) have a strong influence on current trends. No one likes to be trendy more than young people, and the more adventurous, and savvy, among them want the real thing. So they seek out what could be called "trendy vintage."
DG: What do people who wear vintage fashion have in common (if anything)?
In general, I'd say that most people who wear vintage fashion have a respect for and curiosity about history beyond their own generation, and a desire to be different and stand out from the crowd (not necessarily in a "look at me" or outrageous sort of way). For example, the prom dress buyers. They might be looking for something a bit more modest than what's available at the mall, or they might want that extra bit of confidence from knowing that no classmate will show up in an identical dress.
DG: Beyond the character of any specific garment, is there something glamorous about the idea of "vintage"?
Liza: Absolutely. Vintage, particularly mid-century and earlier, connotes glamour—both real and imagined. Every generation romanticizes the past. And not just any past, but very specifically, the time just before we were born. Those years, we argue, were "the good old days." And while the idealized version of the 1950s, say, may not stand up to scrutiny when it comes to politics or social justice, the clothes actually were better. You'd be hard pressed to find a garment today, at any price, that compares in quality with a utilitarian mid-century garment from your hometown Sears. So when we see a 1950s advertisement of a wasp-waisted model impeccably dressed and impossibly poised, we may be misguided in romanticizing her mid-century life as glamorous, but we're dead on about the superiority of her clothes. They really were spectacular. They were glamorous. Today's offerings just don't compare.
DG: Whom do you consider glamorous?
The usual iconic old-Hollywood movie stars, of course. Greta Garbo, Grace Kelly and Cary Grant all come immediately to mind. But for me, my mom, with her elegance, poise, and style, has always been the embodiment of glamour.
DG: Some people treat vintage as an overall fashion look, some as a lifestyle, and some as simply the characteristic of a given piece. What's your approach?
Liza: Well, as I mention in this blog post, I caution against head-to-toe vintage. Sure, we're free to dress as we see fit, but personally, I do not want to look like an out-of-work actress seeking a role in a 40s film noir or a 70s Blaxploitation film. My simple solution? Mix vintage with modern, or wear all vintage but keep the grooming and accessories current. For example, if you're wearing a 1940s dress and shoes, I'd probably steer clear of bright red lipstick and a victory rolls hairstyle. People are consistently surprised when I tell them that the dress or skirt I'm wearing is vintage. When it's mixed with modern pieces and contemporary styling, they don't know it's vintage, they just know they like it.
As for a vintage lifestyle, I'm not sure what that means. If it's about graceful living and gracious manners, and an emphasis on analog over digital interactions, I'm all for it. If it's about eschewing equal rights or avoiding Novocaine, count me out. I have no great desire to wash my family's clothes on a washboard, nor am I ready to give up my remote control or my right to vote. I could easily live without my cell phone, but I'm not ready to isolate myself from modern society and popular culture, or to actually live in the 1950s.
DG: What's your personal style?
Liza: I wish I had one! Truth is, I like several different looks, from flowy and feminine to traditional and tailored. I suppose that my overall goal is to look polished. I can usually pull it off when I dress up, taking the time to get things just so. But day-to-day, in jeans and a fitted t-shirt, it's tougher. And the older I get, the more challenging it becomes. I can no longer jump straight into enhancement. These day, I find I'm spending a good deal of time on triage.
I admire people who, regardless of the particular fashions they prefer, manage to always look appropriate, and somehow effortlessly "done." My mom used to comment on this. Her favorite example was Johnny Carson, whom she described as looking as if he'd just been dry-cleaned.
The key, of course, is tailoring. If your body is reined in appropriately (think "foundation garments"), and your clothes fit perfectly, you'll look pulled together. Price, labels, none of that matters. And never underestimate the power of good posture.
DG: You have a wall of customer photos on your site. What's their purpose? How do you choose them?
Liza: The main purpose is to show potential customers that real people, living normal lives, can and do incorporate vintage clothing into their modern wardrobes with great success. But mostly, I just love to see the clothes on happy customers, and I think they like to see themselves there, as well. The only photos I don't post are ones that for whatever reason would be inappropriate in some manner, or potentially counterproductive. Here's a perfect example that didn't make the customer photos wall, but got its own blog post.
DG: What's the biggest challenge to buying or wearing vintage clothes?
It's the same challenge we face in buying and wearing modern clothes—the fit. With vintage, you start at an advantage, as vintage clothing was made to flatter the body, not to present well on a hanger. But, you still need to know your measurements. Not the ones you wish you had, or think you have, but the ones you actually have.
Next, you must realize that unless you happen to have identical proportions to the manufacturer's fit model, nothing you buy off the rack—vintage or modern—will fit perfectly. It can happen, but it's unlikely. With certain garments—those with lots of stretch or meant to fit loosely—it's not an issue. But with anything tailored, a precision fit is key. It's the difference between you wearing the clothes, and the clothes wearing you. It's how you achieve that polished look.
You need to know your body—both the measurements and the proportions (long torso? narrow shoulders? wide hips?). And you need to know the basics of what can and can't be altered at reasonable cost by your local seamstress or tailor. This is crucial, because knowing that certain garments can be altered to fit you perfectly really changes the way you feel about shopping. Many of the things you might love, but wouldn't have bought because the measurements were slightly off, now become possibilities. And given the comparatively low cost of vintage clothing, even adding in some pricier alterations won't undo the savings.
I have nearly everything I buy (both vintage and modern) altered to fit me better. The difference it makes, for not much money, is incredible. Take my advice, and go have every dowdy, straight skirt in your closet pegged. It will set you back $5-$10 a pop, and you'll instantly look and feel like a million bucks. You can read about that here. Same goes for baggy jackets, or dresses with an unflattering hemline or sleeve length.
DG: What do you look for when you're scouting for items for your shop?
Liza: I look for age, condition, quality, uniqueness, and desirability. I've become increasingly choosy over time, and I now can easily leave behind items I might have taken with me in the past. I buy lots of things that are not necessarily personal favorites, but that I can easily imagine on a friend or former customer. If it's interesting, fun, unusual, or just a great example of a particular era, I'll get it for the shops. If not, I'll leave it for someone else. I am not motivated by labels. Sometimes a label is a sure indicator of quality. More often, it's a sure indicator that you're paying too much, and are being taken advantage of. I know quality when I see it. It doesn't necessarily come with a particular label attached.
DG: Any stories of great finds?
Liza: Lots! But more than individual items, my stories are about the experiences I've had while on the hunt. Sure, I've found a true gem here and there—a well-known label or particularly desirable item. But I am much more enamored of the people I've encountered, and the stories I've heard, than of any individual item. I've blogged about a couple of these already, and intend to write more in the future. Here are a couple of the stories: Queen of the 60s Shift Dress and That's About It for the Clothes, Do You Want to See My Donkeys?
Still to come is the tale of my time spent with Mrs. H, the Woman With 400 Long-Sleeved Blouses, and my most recent encounter with a fun and wacky local vintage seller moving out of state and wanting to offload her mountains of stock. I bought 99 items from her, and barely made a dent.
DG: What are some of your favorite vintage garments?
Liza: Well, my all-time favorite is this pink dress, which I will never sell. In my shop, there's this 1950s polka dot dress and wool coat set which may be my single favorite item I have for sale. Another personal favorite is this beautiful 1910s armistice blouse, a long-sleeved version of the one worn by Lady Mary Crawley on Downton Abbey.
DG: What's your favorite era? Is that because of the styles, the history, the culture, or some combination?
Liza: I have two favorite fashion eras: 1) late 1870s to early 1880s, with the smooth, princess silhouette and minimal bustle: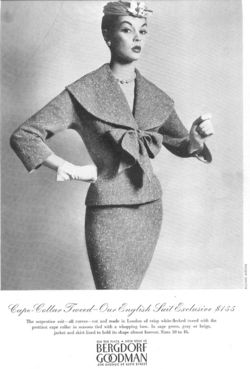 2) the late 1940s to early 1960s (mid-century, from New Look to Mad Men):
As for culture, I'd welcome a return to a more mannered, and even a slower-paced way of life. And remember not having to worry that anything and everything we say and do can be made instantaneously and irretrievably public? Today, you have to be on guard in a way that's entirely new, and more than a little anxiety provoking. Everyone makes mistakes. We fall down, we say stupid things, we do foolish things in our youth (and beyond). But nowadays, these gaffes, which until fairly recently would simply vanish with the passage of time and lack of a permanent record, are eternal, and can easily end a career or ruin a life.
The notion that previous eras were culturally or historically superior, however, with no real problems of consequence, is pure fantasy. No, I don't want to live in a time of slavery, or when women were considered chattel, or when it was a crime to be gay. This is just scratching the surface, of course, but the good old days weren't all good. The clothes were great, yes, but I can still wear them. And if you can sew, you can make them. We needn't go backward.
No, I'd rather stay in the present. I would, however, like it very much if these three things could be undone:
1) the new and misguided educational tenet that self-esteem is more important than service to and respect for others
2) the policy change that shifted network news from a public service to a revenue stream, resulting in "if it bleeds it leads" and creating the terrifying illusion that we live in constant danger, culminating in today's over-supervised, perpetually dependent children and that most loathsome of all modern phrases: "play date"
3) 9/11
That would be just about perfect.
DG: What's your most glamorous place?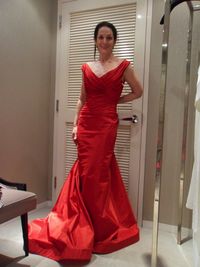 I love Bergdorf Goodman. It's elegant, sparkly, serene. It's luxurious, but not ostentatious. [In the photo to the right, Liza tries on an $8,000 gown at Bergdorf's, just for fun.] Much of Manhattan is glamorous. Even the grittier areas are made glamorous by the constant, purposeful bustle of industry. More places: The Waldorf Astoria. The Chrysler Building. The lobby of the Woolworth Building. Just exquisite. Oh, and the TWA terminal at JFK (if you can just imagine out the sweats-and-Crocs-clad modern travelers). These are places where you should feel uncomfortable if you're not nicely dressed. Oh, and Paris, of course.
On a personal note, the single most glamorous place I have ever been is the kitchen of a friend's parents' home, many years ago, in the late evening. Everything in the uncluttered, darkened space spoke of a life of incomparable glamour and privilege. The Lear Jet catalog on the otherwise empty counter. The pristine, sparklingly bright refrigerator, containing only a large, cut-crystal bowl of fruit salad, a bottle of champagne, a jar of capers, and waiting for the maid on the top shelf, a silver tray holding a bowl of raisin bran and a tiny pitcher of milk. With no other options, we were forced to drink the champagne.