Vintage Finale: DG Q&A With Cameron Silver Of Decades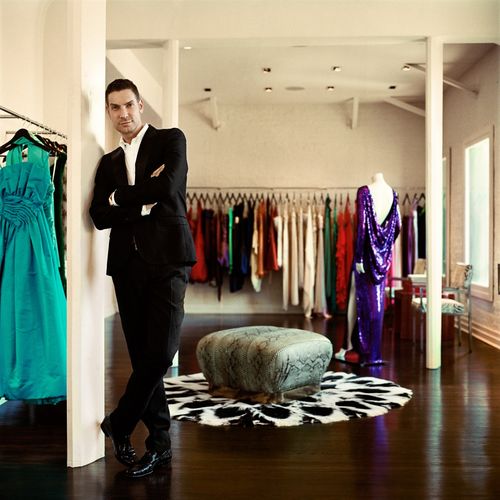 Cameron Silver in Decades
Cameron Silver, the owner of the L.A. luxury vintage shop Decades, is known for dressing Hollywood stars for the red carpet, using a remarkable eye for seeing contemporary style in vintage clothing. With his book Decades: A Century of Fashion
, he demonstrates the sophisticated knowledge of fashion history that undergirds his success as a retailer and stylist. A survey of 20th-century women's fashion, the book is beautiful, but it's also smart, recalling styles often written out of fashion chronicles. Its history of the 1970s, for instance, includes not just the sexy "satin-skinned beauties" of Studio 54 but also the "prairie-chic sensibility" of Laura Ashley's maxi dresses. Contrasting muses—Cheryl Tiegs versus Bianca Jagger, for example, or Joan Crawford's tough-minded "Consumer" versus Rita Hayworth's eye-candy "Consumed"—add further nuance, reminding readers that decades do not come with simple, one-note themes. (Google Books offers some limited previews of the book.)
Silver is also, inevitably, the co-star of a Bravo reality show called Dukes of Melrose, whose dramatic tension derives primarily from the conflict between his big-spending ways and his budget-conscious business partner Christos Garkinos. Silver thinks like a museum curator, justifying expensive purchase by their rarity and long-term potential, Garkinos like a merchant, wanting rapid stock turns. On shopping expeditions, Silver also indulges his somewhat outré personal style, picking up things like a mink sweatshirt as well as merchandise for the store. (For examples of his personal style, see Silver's Coveteur page.) I talked to Cameron Silver by phone in late February, shortly before the show's debut.
DG: What makes a garment vintage?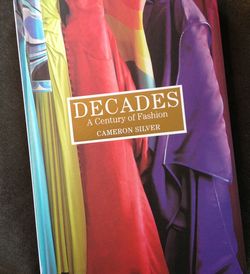 Cameron Silver: That's the million dollar question. Originally it was a garment that was at least 15 or 20 years old. But now with the change in fashion and designers retiring or dying or jumping ship, fashion becomes collectible much faster and can be considered vintage in a much shorter period of time.
DG: What is special about vintage fashion?
Cameron Silver: I think vintage is desirable because it is fashion with history. It is one of a kind and in a world where everything is ubiquitous, it gives you something that no one else can have. And truthfully, almost everything modern is derived from the past.
DG: There is a very literal style divide: If you were in the 1930s, you couldn't have worn clothes that were 40 years old. It would have looked absurd. But someone today can wear anything from the '20s on.
Cameron Silver: It is true. In the 21st century, we are able to look at the 20th century in a very modern way, which is one of the points of the book. You can wear anything from the last 100 years and look contemporary with the way you style it. And that is a really interesting point that you make, that one could never have done that in the 1930s. I think that is a cool point.
DG: A dress or suit or jacket can be glamorous, but aside from the specifics of a given garment, is the idea of vintage glamorous itself?
Cameron Silver: I think it is in the eye of the beholder and it really depends on what you are attracted to. My personal aesthetic is that I believe in the democratization of glamour and I like everything glamorous day to evening, and that is really what we do in the store. But just because it is vintage doesn't mean it's glamorous. There are plenty of things from the past that would be 180 degrees from glamour.
DG: I was getting not so much at the idea that anything old would be glamorous, but whether this sort of concept of "the vintage" has itself become glamorous, at least in the eyes of certain audiences.
Cameron Silver: I think that the notion of saying something is vintage as opposed to just used gives it a certain panache. I think that is one of the reasons why the period when something is called vintage keeps getting closer and closer to present day. There is a little extra validity in saying, "This is vintage" as opposed to just saying, "This is old" or "This is used." It doesn't necessarily mean it is glamorous, but it makes people feel like it is glamorous.
DG: Why has the popularity or at least the visibility of vintage fashion—whether it is high-end very glamorous sort of couture gowns that you would find at Decades or the sort of more everyday clothes that somebody might sell on Etsy—increased so much? What is the appeal?
Cameron Silver: For lack of a better definition, it is just—it is cool. It makes you seem like an insider. People who wear vintage tend to be the fashion leaders, not the followers.
I think that is the reason why so many celebs were interested in vintage initially, especially like the late '90s, early 2000s. It separated them from the pack of generic, fashionable stars. They were the ones that found and discovered something one-of-a-kind and unique, with history. A celeb in vintage really owns her style as opposed to a celeb in something borrowed from a designer. It's like, "Where did she find that dress? Who is this designer? When was it made?" It becomes a much more, in a sense, glamorous story.
——
"Vintage is desirable because it is fashion with history. It is one of a kind and in a world where everything is ubiquitous, it gives you something that no one else can have."
——
DG: Do you have favorite examples of that?
Cameron Silver: I'd say specifically Nicole Kidman, because she was an early supporter of Decades and I had felt that she really defined her persona very effectively following her divorce from Tom Cruise by wearing vintage designer clothing. We dressed her, famously, for the New York premiere of Moulin Rouge and she word this great vintage white Azzaro jersey dress and it was a brand that people had not heard of in a long time. It really sparked interest in Nicole Kidman as not just a fashionista, but as an insider, as an icon. I think vintage is very successful in pushing people's credibility in the fashion world.
DG: Is that because if you go wrong with vintage, maybe you go more wrong? Is it riskier, so that when you pull it off, you look better?
Cameron Silver: I am going to say if it was right 50 years ago, it's right today. I mean, if you are looking at vintage in a modern way. I think there are more risks in wearing modern designer clothing. You rarely see a celeb ripped to shreds in something vintage. It happens way more often when it's someone trying too hard to wear something very editorial that is off the runway.
DG: So vintage has a kind of timeless quality. Is there a generational divide? Is wearing vintage more popular with younger people?
Cameron Silver: I think a lot of people initially get that assumption that it is for the kids. But our clientele is very broad, from teen to well into their 80s. I think that it knows no age barrier. I think the notion that if you wear something that you could have worn 40 years ago that it looks wrong, I don't think that is necessarily the case.
A stylish woman can wear something that has been in her closet 40 or 50 years. And quite often, we have customers who come into the store and they're like, "I had that 30 years ago!" And they like it again. They wish they had kept it or they'd had the money to buy it then. Obviously I don't want to see an 85-year old woman in a micro-mini Alaïa, but I would love to see her in an Alaïa trench coat. Just because it is an Alaïa trench coat from the '80s doesn't mean that she can't wear it. When we are looking at vintage clothing in a very modern way, it makes it easier for any generation to shop with us.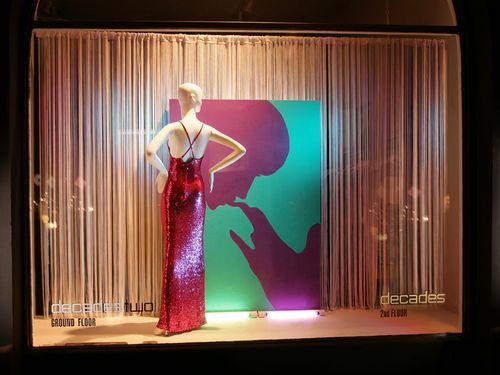 DG: You write in your book, "I participate in the creation of effortless seeming glamour, acknowledging that the illusion of perfection doesn't come naturally to everybody." The idea of the effortless is very important to the idea of glamour. What is it that people don't see?
Cameron Silver: For example, I am, on Sunday, fitting an actress who is starting a new show on ABC and we are doing like a zillion different fittings. There is so much going on. We're going to try something like 200 dresses, I bet, for four or five appearances. Things will get altered, and we are going to use every secret weapon we have. Obviously your undergarments are more important than your outer garments. So today I was schlepping, picking up stuff from stores and showrooms. The process is not necessarily glamorous. The results can be. But it takes a lot of work.
That is also a very American approach to glamour. I always look at my Parisian friends who will go to a black-tie gala and they will just wear—like woman will wear a pair of black tux pants and a little tank top and a marabou-feathered jacket and put her hair back and some sexy heels and lipstick. We are a little bit regimented in America with our glamour.
DG: I wonder how much of that is worrying about things that are going to be recorded photographically.
Cameron Silver: Yes. I have a friend Sarah DeAnna who has got a book called, Supermodel YOU
. She is a very successful model and the book is about using techniques that supermodels use in every walk of your life. As we were talking about ideas for when her book comes out and marketing, I said, "Everyone is a model now because everything gets documented" in the sense that Instagram, Facebook, Twitter. Everyone needs to know how to give their best face. Nothing is candid any more. It doesn't matter who you are. If you are getting photographed, it is going to end up in some social media.
So imagine what it is like when it is ending up on a social media with 2,000 or 3,000 photographers at the Oscars. It takes a lot of extra work to kind of enter the storm.
DG: Speaking of behind the scenes, you now have a reality show, Dukes of Melrose, on Bravo. What made you want to do the show?
Cameron Silver: I agreed to do it at a very vulnerable moment. [Chuckles]
I was super burnt out. I was like, "OK, I'll do it." I still question why I agreed to do it, to be perfectly honest [chuckles]. But I am hopeful that the show will ultimately be a great example of infotainment, giving an insider's experience of the world of Decades and fashion, fashion history and also be entertaining. It is also the way the industry works now. I want to keep growing, I kind of have to do it. Michael Kors did his show, Rachel Zoe has done her show.
DG: Reality shows all thrive on conflict, as does any drama, which is the opposite of effortlessness. Have you had any concerns about whether revealing that behind-the-scenes stuff, or even playing it up, would damage the glamour of Decades and the looks that you create?
Cameron Silver: For sure I have reservations about it. I'm not a producer on the show. I won't watch any of the episodes. Whatever I did, I did authentically. I am sure there will be many, many moments where I am not seen in my best light. But I think true glamour reveals its underside. And I think that, as Marlene Dietrich said, "Want to buy some illusions?" It is all illusions.
DG: Right.
Cameron Silver: And when you go behind the white swinging doors of Decades to the back office that is where sort of the Wizard of Oz bag of tricks gets revealed.
And I don't really mind that. I always liked the storm of being in the backroom. Or the fact that when you go behind the doors of Cartier, or where I used to work at Boucheron, it is not as perfect as it is on the sales floor. The beauty and magic of retail is that then you get on the floor everything is supposed to look seemingly perfect.
DG: Mystery is another key element of glamour. How does wearing vintage create mystery?
Cameron Silver: I think primarily because you just don't know what it is. The fashion pundits can't predict what you are wearing when you step out of that limo. It breeds individuality. I love the idea that all these fashion pundits at the Oscars have no idea what this actress is wearing. There is something rather intoxicating about not knowing the answers right away.
DG: In the book you tell a story about how once you were at one of these vintage shows full of, as you put it tactfully, "decidedly unspectacular merchandise" at the Santa Monica Convention Center and you found this perfect black velvet Halston gown. How often today do you find such buried treasures? Or now has the market gotten so developed that you do most of your scouting in closets of people you know have great taste?
Cameron Silver: I was at that same show at the Santa Monica Civic about two weeks ago. And I found the most gorgeous gold, sequined early '30s mermaid gown. I found the most amazing custom couture I. Magnin dress that was really like a bonded sample of Dior. I still have that eye that no one else has. So I may not find everything at that show, but I always find some gems that not everyone's eye might be accustomed to.
But I think that this gold sequined dress is the most amazing dress. It is so good. And we have a picture—it was purchased by the dealer--with the original owner, who was a radio personality, wearing it. It is so cool. And it was hanging on a hanger and I noticed it is actually extremely sexy and I couldn't believe that no one had picked up on the dress. But, you know, they just—not everyone can find the gem.
DG: So I was going to ask you whether the vintage market has developed so much that you can't find such treasures, but obviously you can.
Cameron Silver: You still can. I don't know if the layperson can do it as easily. It is not like you are going into a thrift store and finding the dress for $25. But it is still possible to find good things.
DG: Do you have to be really small to wear great vintage fashion?
Cameron Silver: Not at all. Again, I believe in the democratization of glamour. I also believe in democratization of being sexy. It is a little bit more difficult with older pieces because I think that if somebody was larger, that the clothes weren't really offered for a woman to wear of a broader size range. Nowadays it is completely different and there are so many options for a woman. I dressed Melissa McCarthy for the Oscars last year. We made a custom dress with Marina Rinaldi.
If you dress your decade, there are certain body types that work better for certain decades. Adele wears quite a bit of vintage and she is not a stick. She is deliciously curvy.
DG: You write that the '30s "made fashion unapologetically effortless" and you contrast them to the '20s. You write that "in the 1920s the rebels all looked alike," which is interesting, but "in the 1930s, getting dressed became a mode of self-expression." What was so special about the 1930s?
Cameron Silver: I think it's just '30s are really synonymous with the bias cut. The beauty of the bias cut is it has kind of no construction. That is one of the most effortless ways to dress. You just lift your arms in the air and let the dress slide down your body. Wear your hair up; wear your hair down. I love those '30s gowns. They are so modern looking.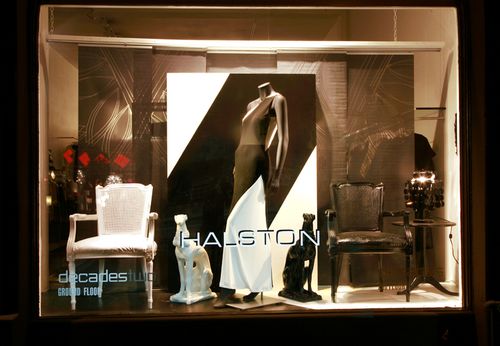 DG: Do you have a favorite fashion period?
Cameron Silver: I'm very 1970s. I love it for several reasons. It is really the acceptance of American sportswear having an international audience after the great fashion showdown at Versailles 1973. American designers suddenly had an international forum to sell. I love the minimalism of the '70s. I'm a very Halston—that's very much my aesthetic. But at the same time I love Saint Laurent Russian collection. And it's really what everyone references still today, is all of those great '70s look.
DG: Is that the aesthetics of the clothes or something about their social and cultural meaning?
Cameron Silver: I love the fantasy of the '70s because it's kind of a return to Weimar, Germany. It is super decadent--you're thinking of the Studio 54 culture. It is sort of like people are acting like it is the end of the world. In a sense, to some degree, it was because the '80s came and AIDS and Reagan. Fashion in the '70s is really flamboyant yet it is often really pure.
If you look at American sportswear and in the early '70s you still have a lot of the countercultural effects of the past and then the late '70s start to be about the beginning of power dressing. I grew up in the '70s and I completely relate to them.
DG: At the conclusion of your book, you write, "As designers demonstrated over and over again via self-referential homage, they just don't make fashion the way they used to. Thank goodness they don't or I would be out of business."
Cameron Silver: Very true.
DG: What do you mean by, "They don't make fashion like they used to"?
Cameron Silver: We live in a world of immediacy and disposable fashion, and the quality isn't there. The quality is so inconsistent. I am just amazed when I am wearing some expensive suit by an Italian or French brand and the button falls off the jacket the first time I've ever worn it. I think it is just crazy. So I think that quality is the main thing and also the exclusivity. It is just everything is everywhere. Every department store to me feels like I am shopping in a duty free. Shopping Barney's in New York, the ground floor, looks no different to me than Terminal 4 at Heathrow.
DG: Is there anything that you would like to say about anything about glamour?
Cameron Silver: I have this philosophy that everyone should live their life like they are walking on a red carpet. That is not to say you need to be in a gown all the time, but there is just a certain confidence and certain—I'm trying to think—there is just a certain—I don't know. I just think that glamour is democratic and everyone should have a little glamour in their life. It makes the world a little bit more beautiful.
Dita Von Teese is glamorous when she works out. It is possible to be glamorous all the time. You always—you will certainly attract attention if you live your life a little bit more glamorously.