Venues For Glamour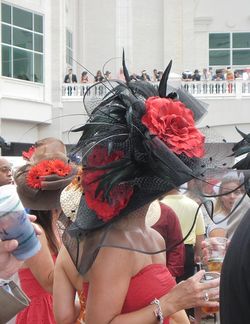 I suppose that one could choose to be glamorous anywhere. While staying in a B&B in Harlech, Wales, we dressed casually and asked where to find a good local pub. After telling us, our host recalled a Parisian couple that had come down from their rooms on a Saturday night, he wearing a tuxedo, and she an evening gown. When they asked, "Where is the nightlife?" he looked at them and said, "You're it." Then he explained the local customs, sent them to a local pub dressed as they were, and they had a great time.
The Kentucky Derby provides an opportunity to wear outrageously extravagant hats and drink during the day. Seeing photographs such as this one, I am reminded of Ovid's line in The Art of Love advising young men "to learn to know the places which the fair ones most do haunt." Places where "they come to see and, more important still, to be seen." And he mentions Roman horse races as one possible venue.
In large, reasonably fashionable cities, glamorous events are more of a possibility. Theater events, charitable events, perhaps some country club gatherings, and maybe even some night spots where you might feel comfortable dressed in relatively glamorous clothing. While living in New Orleans I was invited to observe the carnival ball of one of the Mardi Gras Krewes, an event so costumed and formal that a tuxedo was required to sit in the balcony and watch. In smaller cities and towns, dress is usually more casual, though in small fashionable cities like Santa Fe, there are more chances to dress up.
How do readers feel? Is an occasion or venue required in order to wear glamorous outfits? Or can touches of glamour be incorporated into more ordinary clothing? While in Breckenridge recently to ski, I noticed that young Japanese skiers were, on the whole, strikingly fashion conscious, and this was true of both young men and women as they were merely window shopping in town. No wonder Japan has become one of the world leaders in style.
[Photo courtesy of Flickr user Velo Steve under Creative Commons license.]