Mystery, Mad Men, And Prom Season Success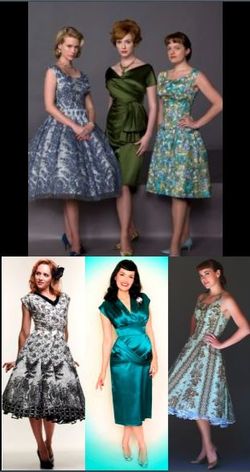 Long before American went Mad Men mad, Katie Echeverry was a pharmaceutical sales rep with a passion for vintage fashion and a workaholic boyfriend. Instead of nagging him to spend more time with her, she decided to develop a hobby that would generate a little spending money—finding cool vintage pieces and selling them online.
That was nine years ago. Katie and her boyfriend are now married and expecting their second child. And what started as a hobby has become a real business, with 12 employees and sales that are thriving even in the midst of the recession. When you
Google "vintage dresses,"
the first site that pops up is her store,
Unique Vintage
, which opened a bricks-and-mortar shop in Burbank a year ago and expanded last December.
These days, few of the shop's wares are true vintage items. When she turned her sideline into a true business three and a half years ago, after her daughter was born, Katie switched from vintage to "vintage-inspired"—contemporary designs based on styles from the '20s, '30s, '40s, '50s, and '60s. Other vintage lovers may cringe, but the switch was essential to the store's success.

When she was selling true vintage, she says, "I just had so many people request a dress in a different size. They obviously didn't understand that it was one-of-a-kind vintage." Plus, she says, "Vintage is so small, and most people are not size double-zero. I'd feel really lucky if I found a size six in anything cute." The switch allowed her to offer a full range of sizes and keep popular items in stock.
Its high Google rankings, a result of being an online pioneer, are a major reason for Unique Vintage's success. They not only drive traffic but provide market research. When "vintage wedding dresses" searches kept sending people to the store, Katie decided she'd better add a wedding line. The same thing happened with flapper dresses, which are some of the store's most impressive wares. The meticulous beading is done in India by a company whose proprietor found Katie online.

Beading detail.
Click for larger view.
Despite its history-based styles, Unique Vintage isn't catering primarily to nostalgia buffs. Rather, the store's wiggle dresses and Marilyn Monroe-style halter styles appeal to young women looking for something that can be hard to find at the mall: dresses that are sexy but don't show too much skin. It does its biggest business during prom season, when Monday sales reach 500 dresses a day. These customers, says Katie, "want something unique without being too revealing." Glamour, after all, requires a little mystery.