Travel Glamour And The Domesticated Sublime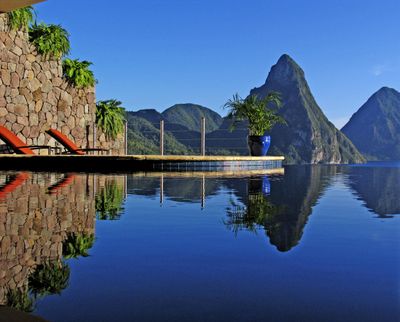 This photo of Jade Mountain in St. Lucia originally appeared in our Hotel Week interview with Tamara Haber Percy of Mr & Mrs Smith. The photo below is from an Urban Daddy Jetset email (and slide show) titled "A Pirate's Tour of the South Pacific", about Remote Land's Bali to Komodo private yacht trip.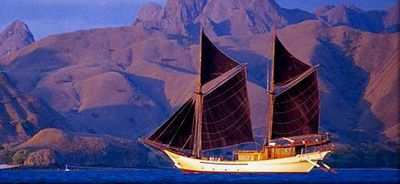 Both images are intensely glamorous, inviting viewers to project themselves into the scene and feel the promise of escape. The still waters create a sense of grace, the mountains a feeling of mystery. We identify with the ship, imagine ourselves gazing at the green peaks from the orange chairs. Both images are also sales tools. They are designed to create longing.
What's particularly striking about these two photos, as opposed to the more common image of sandy beaches, is that they both incorporate craggy, rather barren mountains—the sort of awe-inspiring scenery traditionally associated with the fearful beauty of the sublime. Yet there's nothing fearful about either scene. The chairs in the first image and the ship in the second promise comfortable, safe havens for the visitor. We can experience the pleasures of the sublime without the usual element of fear.
Much luxury travel is, in fact, about domesticating the sublime, from old-time Alpine resorts to the new luxury camp on Antarctica, which features "private domed tents and cuisine from an award-winning chef." With enough technology and effort, travel businesses can provide access to the most rugged wilderness without threatening the lives, health, or taste buds of their guests. (Of course, there are still customers who want to suffer, at least somewhat. Hence the market for what John Tierney dubbed explornography.) Not just the image but the actual experience of the sublime can be "glamorized" by containing or removing some of its dangers.