Transformations: Perfume, Flowers, Butterflies, And Bugs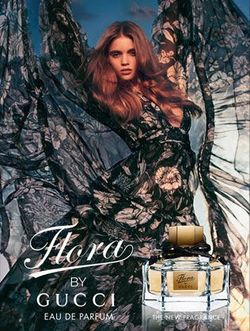 Gucci has designed a highly effective ad campaign for its Flora perfume that revolves around fields of flowers, diaphanous floral print dresses, and the sultry beauty of model Abbey Lee Kershaw. In the print ads Kershaw is photographed in dresses that seem to magically transform into butterfly wings. The Chris Cunningham video shown below was shot in Latvia in a seemingly endless sea of flowers. Kershaw is depicted like the Roman goddess Flora, who with waves of her arms causes the flowers to bow to her (an effect that appears to use a mobile wind machine). At the end the images are manipulated so that Kershaw and her dress seem about to take flight.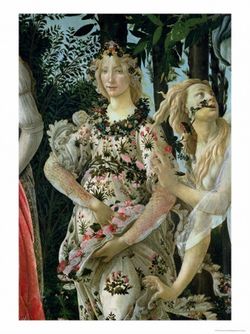 If you have seen Botticelli's Primavera, the Gucci ads may remind you of his image of Flora, who holds spring flowers in the folds of her sheer floral dress. These images all promise that winter's reign will end, that spring will transform the world, and that once again we will enjoy the scent of blossoming flowers.
The butterfly-like shape of the billowing dress in the Gucci ads reminds us of another transformation, that of caterpillar to butterfly. Most butterflies are colorful, beautiful creatures. How tempting it becomes to try a perfume that suggests it can transform you into a creature as beautiful as spring, flowers, butterflies, or a youthful goddess.
Most people do not find butterflies attractive in their caterpillar stage. The same is true of bugs. While we might be delighted to have a butterfly land on us, we may shudder if we notice a caterpillar or a bug crawling on us.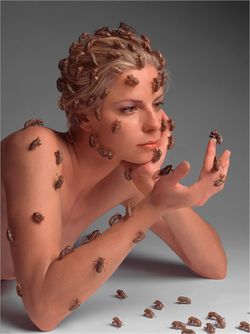 That's one reason this photo by John Bonath, titled "Contemplation on a Cicada," is so arresting. The beautiful blond model appears to be naked, photographed in a studio, and deep in thought as cicadas crawl on her hair, face, and body. This image is used on a card advertising an upcoming show of Bonath's work at The Camera Obscura Gallery in Denver. He specializes in surreal digital images, so it is difficult to know what is "real" in this image. Cicadas don't bite or sting humans, but I can't image them arranging themselves in such orderly fashion.
When they molt cicadas leave behind ghosts of themselves in the form of hard shells whose claws cling to trees, bushes, and posts. (Here is a time-lapse image of a cicada molting.) We tend to associate bugs with disease and decay, and in nature various bugs and their larvae help decompose dead animals. That is a transformation that few of us enjoy contemplating, yet nature's transformations are not always pretty. Once while leading an art class on an excursion to Great Smoky Mountains National Park, my wife came upon a group of Monarch butterflies feasting on smelly poo in a tossed-away baby diaper.
Part of the cleverness of the Gucci perfume ads is how well they combine positive images of transformation. In contrast, a brilliant aspect of the opening of David Lynch's 1986 film Blue Velvet was its fluid movement from images of an idyllic small town to an man dying while watering his lawn, and then to bugs in the soil beneath the lawn. This sequence prepares us to see the film reveal part of the decadent underworld of the town. In both cases images are used to help us focus on transformations, either toward renewal or toward decay and decadence.