Pure Escape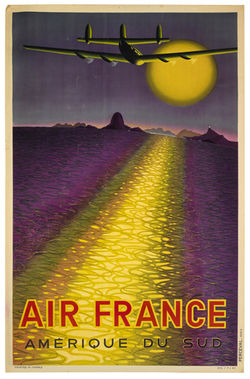 This evocative 1945 poster, up for auction by Swann Galleries on February 5, is by Victor Vasarely, who later became famous as the father of Op-Art.
Although the words promote Air France flights to South America, nothing other than the (presumably) westerly direction of the plane suggests that destination. Unlike many vintage travel posters, this one contains no short-hand emblems of a colorful and exotic destination.
It's a timeless, placeless image capturing the glamour of escape.