The Value Of Dissatisfaction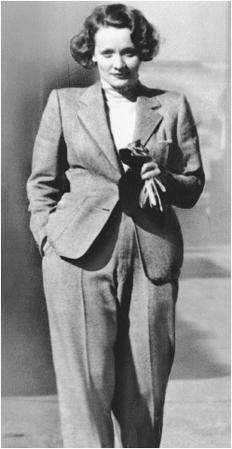 Chanel demonstrated that same sense of style and practicality in creating pant suits, and suits with skirts. Marlene Dietrich is shown at left wearing a Chanel pants suit designed in 1933. You can find Bill Eppridge's well-known 1966 photo of some famous women wearing Chanel suits here.
As I read about Chanel I realized that a lot of creative work happens in a variety of fields because someone says to themselves, "I could do better than that." "Better" might mean anything from better suited to your personal taste (such as improving on a recipe) to more satisfying intellectually (perhaps creating a new scientific theory that better matches recently discovered information).
The people who become best known in particular fields tend to have been trying to do better work in those fields for quite a long time. Chanel started as a hat maker and gradually expanded into other areas, including clothing, costume jewelry, and perfume. It often takes a while to master the basic knowledge of a given field needed to execute that "better" idea.
But to get you going, some personal and particular dissatisfaction with the status quo can be a valuable thing. It can motivate you, and help you focus your thoughts and possibly imagine a different approach. In doing this, it helps if you are comfortable imaging that your ideas might in some way contribute to the future being different from the present, even if you're not sure exactly how (as Virginia argues eloquently in The Future and Its Enemies
). It is easy, for example, to underestimate the difference that Chanel's new clothing options made. But just consider how much easier it became for women to fit our image of people who can successfully hold management positions once they had their own versions of business suits. To see how much difference clothing imagery can make, compare your impression of the shown image of Dietrich in her 1933 Chanel pants suits with this 1935 feminine-goddess image of Dietrich or this portrait of the Wyndham sisters in their Belle Époque dresses. Playing a variety of roles in life is far easier when you have clothing options that help you to look the part for each one.
[The 1906 dress design was found at Wikipedia Commons.]