The Power Of The Written Word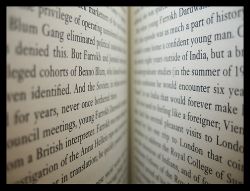 Earlier this week, Randall Shinn wrote about the impact of voice. He writes of patterned language, saying, "Hearing such language performed by a great vocal interpreter remains a magical experience."
It's true that some voices and some styles of delivery make words more powerful. It doesn't stop, though, with the spoken word. Graphic novelists, especially, understand this, creating images and deliberately drawing words to convey a certain mood. Artist Maira Kalman tells stories (most notably in The New York Times) using simple drawings, bright colors and incredibly expressive handwriting that is one part childlike, one part sophisticated and completely distinctive.
The majority of us, though, don't have the artistic ability to communicate like Kalman, or any graphic novelist. But we do have Microsoft Word, which offers us hundreds of different fonts to choose from, plus the ability to easily manipulate font size, to make our words bold, and to italicize. With just a little effort, we can download a font to convey most every mood or concept (including glamour, which has a "font family" of its own, plus an additional "glamour girl" iteration).
This makes me wonder: just because we can manipulate the look of our words to convey extra emotion, should we? There's something relaxing about reading books and websites that, out of necessity, rely on a single, simple font with a minimum of fuss, and sometimes it's nice, as a reader, to do a little interpretation. But, then, are we missing out on something the author might share?
[Photo "Words" by Flickr user Emborg, under the Creative Commons license.]