The Pleasures And Perils Of Dining Out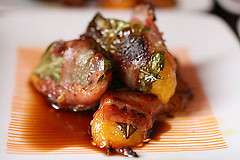 Restaurants often seem to have a hard time putting together a congruous dining experience. On the road last week we ate at a restaurant that someone in an art gallery told us would be the most interesting local place to try. The host and staff were nicely dressed, and the menu was elegantly printed, with some inventive entrees. The background music was interestingly eclectic, a mix of 40s music and rock classics. The decor was nicely done, with one glaring exception—the art on the walls looked like framed high-school art projects—mostly really bad stuff. The food was quite good, but the art was off-putting enough to downgrade the whole experience.
Next morning we had breakfast in a restaurant in a historic hotel. The room was nicely painted in Victorian style, with lovely botanical prints on most walls, and two large 19th-century engravings hung near a pair of beautiful Victorian sideboards. The food was good, but I was astonished that the music was a radio station playing rap. The servers and cooks must have chosen the station, because it was completely incongruous with the setting and the restaurant's clientele.
In Santa Fe, which has numerous fine restaurants, we had some memorable meals in which everything about the experience was in harmony. A tapas restaurant had simple wooden tables, good art, nice decor, excellent food and wine, and a Spanish guitarist.
An elegant and eclectic French/American restaurant also had done everything well, although I still can't fully understand why 1940s big-band music is so often used as background music for restaurants that are striving for an aura of elegance. I suspect that the '40s evoke an aura of elegant film and night-club glamour typically absent from our visual imagery of contemporary pop-music performers and performance venues. But surely there are other possibilities.
Our strangest on-the-road dining experience was an Italian restaurant in a city in southern Colorado. We tried it because our motel gave us coupons for a complimentary glass of wine (which turned out to be almost undrinkable). Almost every sauce (even the Marinara) included cream, and most of the patrons were notably overweight.
My wife commented to the waitress that the music was awfully loud, and she replied that it was only because one of the waitresses was now singing. Ah, a restaurant with singing waiters—a perilous prospect. As feared, we soon had the excruciating experience of hearing "Over the Rainbow" sung by a mediocre, too often out-of-tune soprano who didn't understand how to use a mike. Thankfully, a couple of the other servers did a better job, allowing us enough time to eat modest amounts of our over-rich, gargantuan servings of food, and then quickly make our escape.
[Photo of "Pancetta-Wrapped Peaches with Basil and Aged Balsamic" by thebittenword.com. Used under the Flickr Creative Commons license.]