How Gordon Parks Made Fashion Photography Glamorous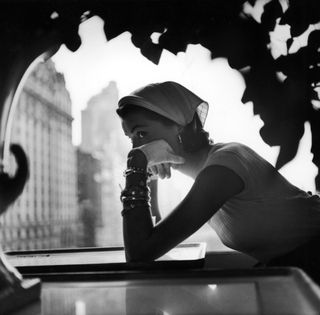 Model wearing nursemaid's kerchief by Lilly Dache. Photo: Gordon Parks, courtesy the Gordon Parks Foundation
At the New York Times' Lens photo blog, Deborah Willis, of the Photography and Imaging Department at New York University, looks at the fashion work of the late Gordon Parks, who would have turned 100 this year.
Parks is best known for his socially conscious documentary photography—he was the first black photographer for Life magazine—and for the 1970s blaxpoitation film Shaft, which he directed (and which is quite stylish too). But Parks largely got his start in the glamour industry, shooting portraits of society women in Chicago before eventually landing at the ne plus ultra of fashion magazines, Vogue, where he freelanced from the mid-1940s to the '60s.
Parks produced some of the magazine's loveliest images: models draped in furs and waiting for a bus; a woman dashing across an office, her sorbet-colored gown trailing behind her; girls in pert hats jumping in and out of taxis, or deep in conversation at a Parisian cafe. Willis writes:
With a clear understanding about how to "look" on city streets, in cafes and society balls, Parks's fashion photographs are about the experience of being dressed. He communicated beauty, vanity and pleasure in his photographs of fashionably dressed women. ...
But there's something else that makes Parks's images so arresting, and that made them so radical at the time, and it's that they are alive. At the time Parks was beginning his career at Vogue, most fashion photography was done in a studio, with models posing like mannequins in front of artificial-looking sets or painted backdrops. Parks—along with Martin Munkácsi at Harper's Bazaar and Richard Avedon—was among the first to bring the model onto the streets, showing her interacting with the city and its inhabitants. And it made fashion photography more glamorous, because it allowed women to get lost in the narrative of a photograph, and imagine a world in which waiting for a bus or going to work was filled with romance and excitement and dramatic possibility. Before, fashion photography was about clothes; Parks and his peers made it about the women and the lives they lead in those clothes.
Click on the link to read Willis' article and see a slide show of Parks's work.