The New Romantics And Martin Fry: A 30 Year Return To Glamour In Pop Music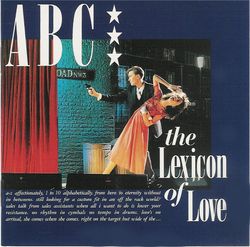 Some 30 years ago, the New Romantic music movement reignited a return to sophisticated glamour and elegance in pop music sound and style. Next Tuesday, December 18, one of the quintessential New Romantic bands, ABC, will celebrate that moment in time with a special performance at London's Theatre Royal Drury Lane. Fronted by the blonde, statuesque singer Martin Fry, the band will perform its 1982 debut album, The Lexicon Of Love
, backed by a full symphony orchestra.

"Thirty years is insane but the album still purrs along like a Bentley," Fry recently told the Daily Star, drawing a comparison to another sort of glamour icon.

The album is lush and romantic, even without an orchestra. Readers might recall hits off the Trevor Horn-produced album, such as "Look of Love" and "Poison Arrow." But one need not even care for the music to appreciate the grand vision put forward by the artists and, indeed, the genre—both then and now.

At the height of disco, punk, and guitar-rock dominance in 1978, the band started out in Sheffield, England as an unremarkable-looking experimental electronica band called Vise Versa. But, as lore would have it, Fry's band mates suddenly discovered he could sing, and the band completely remade its sound and image, replete with skinny, matching 1960s-style suits and perfectly coiffed waved back hair. As the frontman, Fry pushed the style statement further by dazzling audiences in a now-iconic gold lamé suit.
It's interesting that so many years later, Fry's music aesthetic may have evolved beyond the New Romantic Lexicon sound, but his on-stage fashion presentation remains one of thoughtful elegance: expertly tailored suits made on Savile Row. Some are made of brightly colored dupioni silks in blues, purples, and oranges. As often, they are more subdued charcoals and periwinkle-grays. All are usually paired with simple ties and an ornate, statement belt buckle. The overall effect is that someone has made a very deliberate and respectful effort to dress for a specific special occasion—an audience, a show.
Long ago, a friend told me that he once imagined himself as Martin Fry, an elegant, mysterious man off on any manner of James Bond-style international intrigues and adventures. Perhaps that image also sprang from an oddly-conceived spy-thriller short film called Maptrap intended to promote Lexicon. Directed by Julien Temple, the film featured the band traveling in danger and intrigue behind the Iron Curtain. I think that captures as well as anything the vision Martin Fry and ABC intended to inspire—the illusion of a beautiful, glamorous life.