The Mystery & Magic Of Hats—and A DeepGlamour Birthday Party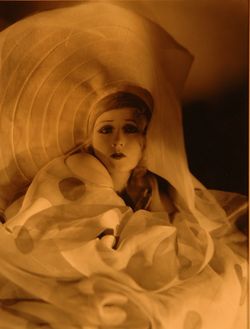 This is Anita Page, as photographed by George Hurrell in an extraordinary hat. (Page is a fascinating character: a long-lived Golden Age star who made only one movie between 1936 and 1996, then re-emerged in cheapo horror flicks as well as documentary interviews about studio-era Hollywood. She died last September at 98 but still has a movie in post-production.) This hat is presumably a costume, but women used to take as much pride and interest in their hats as they do today in shoes and It bags. Alas, the informality of the 1960s killed off hats. They became functional—a way of protecting yourself from sun or cold—rather than expressive.
Hats are now enjoying something of a resurgence among hipsters and fashionistas, with fedoras, cloches, and fascinators showing up on people in the business of being noticed. The paradox of a hat is that it simultaneously conceals and calls attention to the wearer—the very definition of a glamorous accessory. (Think also of sunglasses, fans, and cigarettes.)
Next Thursday, August 20, DG is curating an event—and throwing ourselves a birthday party—as part of the inaugural L.A. Downtown Fashion Walk. Our theme is the glamour of hats, with creations on display (and in some cases for sale) from local designers Louise Green, Arturo Rios, and Stella Dottir as well as collector Wendy Ann Rosen's renowned "House of Hats." (Some of Wendy Ann's hats are featured in this amazing V&A exhibit, curated by Stephen Jones, which is now on a two-year world tour.)
Plus, Project Runway's Andraé Gonzalo will join our friend Kate Hahn to sign their book Forgotten Fashion, excerpted in one of our very first posts, which includes some of Andraé's illustrations. The party starts at 6:00 p.m., giving Project Runway fans plenty of time to come by before taking off for premiere viewing parties (which is exactly what Kate and Andraé are doing).
Here are the particulars:
August 20, 2009
6 p.m. to 10 p.m.
Farmers & Merchants Bank lobby
Southwest corner of 4th & Main Streets
Spring Arts Tower, 453 S. Spring Street (enter at 201 W. 5th)
(Ample parking available at 530 S. Spring Street garage)
Information & RSVPs: virginia-at-deepglamour.net
Dress glamorously, and wear a hat. You could win a prize.
IMPORTANT UPDATE: The DeepGlamour party has been moved to the Spring Arts Tower at 453 S. Spring Street (enter at 201 W. 5th). Parking $5 at 530 S. Spring Street garage. Great space, just down from fantastic art-book store Polyester.

[Anita Page photo © Estate of George Hurrell and courtesy of Pancho Barnes Trust Estate.]