Behind The Scenes Of Hollywood Style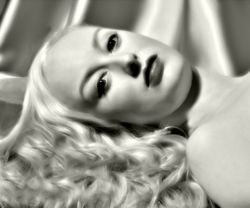 With the Oscars this Sunday, I thought Dallas photographer Mark Oristano's work might get you in the mood for the old glamour of yesteryear, when studios matched stars up on the red carpet and picked out their Oscar gowns. Believe it or not, there was a time before the professional freelance stylist.
From Dana Thomas's Deluxe: How Luxury Lost Its Luster
:
"Stylists are a relatively new phenomenon in fashion. Orginally, stylists worked as fashon editors, dressing-- or "styling"-- models for fashon shoots for magazines or catalogs. But as the number of formal affairs exploded in the 1990s, from the Oscars and a few premieres to an avalanche of paparazzi-line red-carpet events, stylists saw the birth of a new niche: dressing celebrities. Stylists went freelance and starting signing up movie, television and music stars."
But Thomas goes further, explaining the timeline of the once and future stylist.
In the 1950s, following the advent of television and a U.S. Supreme Court ruling known as the Hollywood Anti-Trust Case that forced studios to sell off their theatre chains, the industry suffered a financial slump and changed the way business was done. Actors and technical staff--including costumers--were gradually released from their studio contracts; many costume departments were shut down. To make matters worse, films began to take on a more realistic tone, with actors in more everyday, normal clothes--no ermine-trimmed peignoirs or sequin siren gowns required. By the mid-1960s, movie costume designers were nearly an extinct breed...

With no more Edith Head or Helen Rose or Jean Louis to provide glamorous wardrobes gratis, stars were forced to shop themselves for premieres and award shows, including the Oscars.
So at Oscar time, as Thomas writes, stars criss-crossed Rodeo Drive looking for their gowns. "The problem was most stars didn't have cultivated taste and they didn't have the studio costumers to guide them anymore."
Then, disastrously, the stars decided that they could design their own outfits. See: Demi Moore in bike shorts and a gold capey-skirty thing in 1989 and Kim Basinger in 1990 in her futuristic a-bomb gown (also see 1989, when Jodie Foster wears a baby-blue prom dress with a giant butt-bow, plucked from a Milan shop window).
Enter Armani, who decides he wants stars wearing his clothes. After seeing poor Jodie Foster in her taffeta, Armani's director of entertainment industry communications, Wanda McDaniel, contacted Foster and offered to dress her in Armani for the 1990 ceremony when she'd be presenting. McDaniel also dressed Michelle Pfeiffer that year and, writes Thomas:
The next morning Women's Wear Daily ran the headline: "The Agony and the Ecstasy." Under it were two pictures: Kim Basinger in a freakish self-designed one-sleeved white number, and luminous Pfeiffer in her understated, utterly tasteful Armani... Women's Wear Daily dubbed it the Armani Awards...more important, it gave Americans a glamour they could actually imagine wearing.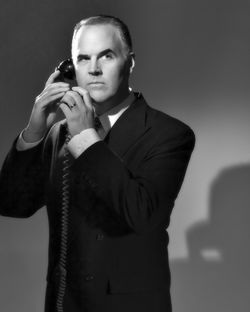 Ah, but back to Oristano. His clients want the studio-conceived glamour, the kind that Edith Head could whip up and immortalize in a Hitchcock film, so he's got his own stylist on call to give his clients make-up treatment and costume consultations.
Says the photographer, "I've always been a huge fan of the photos of George Hurrell, the photographer who set the pace in the 30's and 40's in Hollywood.
I've also studied with
Michael Grecco
, who is one of the top portrait photographers working today. He got me interested in using the same kind of 'hot' lights that Hurrell used. I just kept fooling around until I got it right."
[Kim Basinger and Jodie Foster photos by Flickr user
Alan Light
under Creative Commons license.]