The Glamour Of The Nutcracker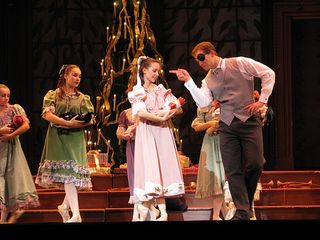 New year, new decade. Reflecting back on the holiday season I realized that The Nutcracker had come up several times in conversation. One family had taken their children, another person's best friend had been once been cast as Clara, and so on.
The Nutcracker is glamorous on many levels. Ballet itself is one of the most glamorous forms of dance, as has been discussed here before. The orchestra, especially as used by a composer like Tchaikovsky, can be a glamorous sound machine (more on that in a moment). And the costumes and stagings of this ballet are often captivating.
The Nutcracker plot joyously celebrates aspects of the winter season that are often denigrated because they seem more pagan than religious. Some historians argue that Christmas is celebrated on December 25 because that was the Roman date for the winter solstice, a tradition time for celebrating the return of the sun and longer days. The Nutcracker acknowledges that festive parties, colorful decorations, and receiving gifts are memorable and exciting, especially to a child, whatever the reason for celebrating.
The ballet's central character Clara is an adolescent poised between childhood and young adulthood, and she has desires and longings in both domains. Boys remain mischievous and clueless about her dreams of the future. But in this ballet's dream a prince arrives and transports her into a magical world. No wonder that countless young ballet students dream of being cast as Clara, and that mothers take their daughters to see this timeless fantasy.
I do not mean to slight men here. The ballet was created by men. The ballet is based on a story by E.T.A. Hoffman, and the story adaptation, original choreography, and music were all done by men. In Hoffman's original story the heroine is named Marie and the nutcracker is Drosselmeyer's nephew. How he came to be a nutcracker is a complex story involving magic spells, and Marie's love for him eventually lifts the curse and he becomes himself again.
In the ballet Drosselmeyer's ability to create life-size mechanical dolls makes him seem a kind of magician, and sets the stage for dreams of giant mice and toys that come alive to battle them. Scenes like this are bound to delight children.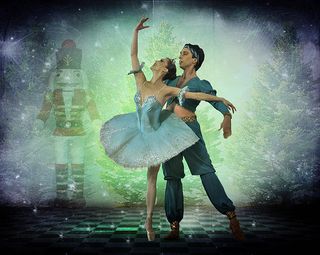 Yet Clara's trip to the land of the Sugar Plum Fairy is a dream of transformation into adulthood, and in that land Clara becomes a woman and a prince becomes her escort. In her dream Clara becomes a princess-to-be whose life is filled with fancy costumes, elaborate entertainments, and dances that show her perfect poise as a adult.
Tchaikovsky's music plays a major role in the success of the ballet. Tchaikovsky had a keen ability to create musical textures that can stimulate a listener's imagination. At the same time his ballet music is easy enough to follow that we have mental room left to take in the dancing. This same openness also leaves room for his ballet music to interact with our imagination, allowing us to project auras such as "mystery" and "longing" onto what we are hearing. (Densely intellectual musical textures such as fugues seldom allow this.)
In creating ballet music that seems glamorous, Tchaikovsky became a kind of conjurer. By developing an awareness of how particulars sounds and musical textures could stimulate a listener's imagination, he used that awareness to create music that encourages listeners to generate imaginative illusions.
In the following Pas de Deux between Clara and her prince (Bolshoi Ballet production), no words need be spoken. Clara's prince becomes her ideal consort. He is there for her whenever she needs support to display her poise. Tchaikovsky's music supports them both. One of his friends bet Tchaikovsky that he couldn't compose the theme for a pas de deux with a scale. Tchaikovsky asked if the scale could go downward. When that was allowed, Tchaikovsky took the bet, and won with the main theme of this music. Tchaikovsky's ability to create something extraordinarily evocative out of simple material demonstrates his deep understanding of what works as ballet music. His music captivates our hearing, but leaves enough room in our minds to appreciate the staging and dancing, and even to imagine that we are feeling something similar to what these dancers are feeling. And that is a beautiful illusion to experience.
[Clara's Gift photo by adjustafresh. Pas de Deux photo by violscraper. Both used under the Flickr Creative Commons license.]