The Glamour Of Glass
"I have very expensive wallpaper." So said Philip Johnson, architect of the modernist masterpiece Glass House, which he designed as his own residence in 1947 and inhabited until his death in 2005. Beyond its expense, Johnson's glass walls create a glamorous atmosphere unique for a small suburban residence. Undoubtedly his lifestyle did much to enhance this feeling. The house was a setting for frequent salons and parties, hosting many luminaries of modern art and design. Johnson was so devoted to entertaining he had a hob in his kitchenette island removed so he could add an extra ice maker.
But the glamour of the house isn't just about what happened inside; it emanates from the structure itself. Similarly, countless other glass buildings, from the Crystal Palace to the Burj Dubai (which contains a breathtaking 20 acres of glass) transcend the idea of buildings, becoming surreal settings of fascination and desire. Something about glass captures our imagination and creates glamour like no other architectural material.
Glass's glamour arises from its physical properties: fragility, luminosity, and transparency. Rigid but delicate, glass is notoriously difficult to work with. It first appeared in architecture in ancient Rome around 100 AD, adorning only the most important buildings and expensive private homes. It remained a luxury through the middle ages, typically found in palaces and churches. Though glass is now ubiquitous, its use at large scale still feels lavish, and it wasn't until the middle of the last century that technology allowed for the construction of multi-story glass facades such as those on Bunshaft's Lever House and Mies van der Rohe's Seagram Building, and the many other glass skyscrapers that comprise the Manhattan skyline.
Glass's precarious nature, combined with its scintillating reflective surfaces, give it a jewel-like quality at any scale. Cinderella's slipper was glass, embodying hope, fantasy, and royalty in one fragile token. The glass structures of the world are like Cinderella's slipper writ large, containers of dreams that always feel a little bit impossible. I.M. Pei's pyramid at the Louvre, and the cube above the Fifth Avenue Apple Store that references it, have this gem-like presence. The same can't be said for structures made with transparent plastics like acrylic or polycarbonate; poor cousins, too optically inert to stir our emotions.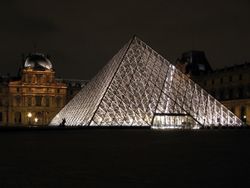 Like all truly glamorous things, glass eludes us. It moves in a perpetual dance between two kinds of ephemerality. Lit from outside, it is luminous and reflective, taking on the character of what surrounds it. Johnson's Glass House feels alive, an ever-shifting pattern of trees shimmering across its surfaces. Glass skyscrapers literally become pieces of sky, translucent blue by day and inky black at night. In this state, glass is like a mirror, restless and mysterious.
But light a glass structure from within, and it vanishes in another way, revealing its contents to the world. This glass is deceptively sheer. It yields to what's behind it, inviting us to peer inside. It's this invitation — to admiration and to voyeurism — that makes glass so special.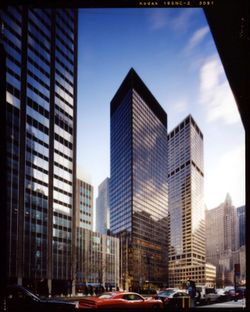 Inscribed in any glamorous object is the gaze which makes it so. Pull back from the object. Zoom out, and there is always someone watching and wanting, infusing it with the desire that is glamour's driving force. Without a viewer through which fantasy can be filtered, there may be elegance or sophistication, but there can be no glamour.
Glass, with its tantalizing non-presence, creates the illusion that inside and outside are one. But not so fast. As anyone who has accidentally walked into a freshly-washed glass door will tell you, it's a formidable barrier. This impenetrability is also part of its glamour. Glamour is an expression of a paradox: a fantasy so close you can feel yourself inside it, but so distant you must admire from afar. Glass facilitates this illusion better than any other material. Think of shop windows, museum exhibits, and jewelry display cases. Glass says look but don't touch. It beckons to you to lose yourself in fantasy at the same time as it precludes you from making it a reality.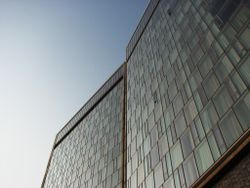 Playing directly with this paradox, the Standard Hotel has captured the essence of glass's glamour in its 18-story New York tower. The hotel touts the spectacular views of the Hudson River from the picture windows in each room, but the real story is guests' exhibitionist behavior, encouraged (and sometimes engaged in) by staff and management. Ostensibly about looking out, the allure is really about looking in. The glamour is in feeling admired and coveted inside the glass box — exposed, yet protected.
Johnson supposedly prized his house for its outward views. A nature-lover, he lit the house with the intention of making the natural surroundings visible rather than calling attention to the architecture, and he slept facing out towards his favorite view. But the house is also undeniably about looking in. Johnson considered the threshold to be outside the house, at the first point when you get a full view of it just past the stone wall that runs alongside the driveway. In the foyer of a typical home, you acclimate to the new environment whilst inside it; in Johnson's schema, you are welcomed first by standing outside looking in. You must appreciate before you enter.
Glass is not a comfortable material, and Johnson was well aware of this. He never aspired to comfort in his home, but to an aesthetic purity. The Glass House existed not to coddle his senses, but to stimulate them. He has said:
...Comfort is not a function of beauty... purpose is not necessary to make a building beautiful...sooner or later we will fit our buildings so that they can be used...where form comes from I don't know, but it has nothing at all to do with the functional or sociological aspects of our architecture.
Glamour, like glass, is beautiful but rigid. It doesn't bend to our convenience; rather, it offers a fantasy, and if we desire it, we conform ourselves to its standards. In this way, glass it like countless other tools of glamour — corsets, stilettos, sportscars — enforcing an uncomfortable, even painful transformation. It is not easy to be glamorous, just as it is not easy to live in a glass house. But it is beautiful. And for some, it's well worth it.

[Images: Glass House images, © Ingrid Fetell. Crystal Palace, Wikimedia Commons. All others via Flickr, used under Creative Commons license: Burj Dubai by Paolo Rosa, Seagram building by gmpicket, Louvre Pyramid by carlos_seo, and Standard Hotel by laurenatclemson.]