The Full Skinny: Marilyn Monroe Was Tiny...and So Were Rita Hayworth, Judy Garland, Grace Kelly, Barbra Streisand, And More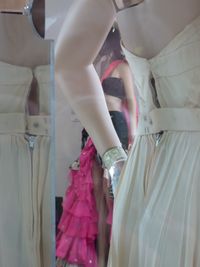 In my Bloomberg View column on the Debbie Reynolds collection auction, I cite some of the waist measurements Lisa Urban took from the costumes. But column prose didn't allow for the full inventory, which should be kept for historical interest. Here, in alphabetical order with links to the photos (much better than my snapshots) and auction results for each costume, is the full list. The numbers are the auction lot numbers. In a decision I now regret, I did not request a measurement of Audrey Hepburn's My Fair Lady Ascot dress, because everyone knows she was thin, the same reason I didn't ask Lisa to take any Katharine Hepburn measurements.
The biggest surprise to me was that Deborah Kerr's waist was as large as 24 inches. Her costumes, particularly the black gown from An Affair to Remember, are strikingly svelte and, like Marilyn's white dress, couldn't be fully fastened in the back, as you can see by my photo of her Catherine Parr gown. I was also surprised that the Ginger Rogers dress had a 24-inch waist. It looks even smaller in person.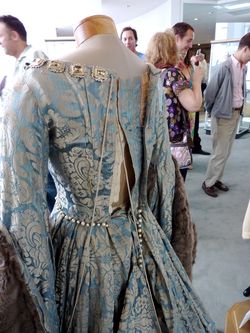 Claudette Colbert - waist 18"
121. Lana Martin blue wool suit, Drums Along the Mohawk
Greta Garbo - waist 24"
34. Green velvet, Anna Karenina
Judy Garland - waist 22"
165. Esther Smith gray [originally blue] w/ tassels, Meet Me in St. Louis
169. Esther Smith red wool, Meet Me in St. Louis
185. Susan Bradley cream two piece, The Harvey Girls
239. Annie Oakley two-piece, Annie Get Your Gun
Rita Hayworth - waist 24"
161. Maribelle Hicks two-piece, Cover Girl
217. Carmen death scene dress, Carmen
311. Princess Salome beaded chiffon, Salome

Grace Kelly - waist 23"
307. Linda Nordley safari outfits, Mogambo
357. Frances Stevens rose crepe, To Catch a Thief
372. Princess Alexandra ivory silk chiffon, The Swan
Deborah Kerr - waist 24"
294. Catherine Parr blue and gray with fur, Young Bess
300. Portia toga, Julius Caesar
387. Terry McKay taupe chiffon, An Affair to Remember
388. Terry McKay black chiffon, An Affair to Remember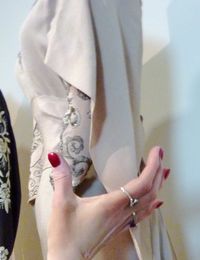 Hedy Lamarr - waist 22.5"
220. Delilah peacock, Samson and Delilah
Carole Lombard - 21"
25. Connie Randall beige gown, No Man of Her Own (no, I did not touch it when demonstrating how tiny it was for the photo)
Marilyn Monroe - for these four dresses her average waist is 22" and bust is 34"
282. Lorelei Lee red sequined dress, Gentlemen Prefer Blondes
313. Kay Weston gold charmeuse saloon girl gown, River of No Return
314. Vicky tropical print, There's No Business Like Show Business
354. The Girl white "subway" dress, The Seven Year Itch
Mary Pickford - waist 20"
16. Katherine green velvet, The Taming of the Shrew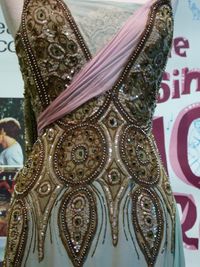 Debbie Reynolds - waist 24"
273. Kathy Selden flapper dress, Singin' in the Rain
455. Lilith Prescott silk floral, How the West Was Won
458. Lilith Prescott pleated silk, How the West Was Won
497. Molly Brown pale green beaded, The Unsinkable Molly Brown
500. Molly Brown wool period dress, The Unsinkable Molly Brown
Ginger Rogers - waist 24"
222. Dinah Barkley gold dress, Barkleys of Broadway
Katherine Ross - waist 24"
536. Etta Place chartreuse two-piece, Butch Cassidy and the Sundance Kid
Barbra Streisand - waist 24"
529. Fannie Brice purple and green, Funny Girl
531. Fannie Brice black velvet, Funny Girl
537. Dolly Levi purple, Hello, Dolly!
538. Dolly Levi gold velvet, Hello, Dolly!
Elizabeth Taylor - waist 19.5"
345. Lady Patricia yellow satin, Beau Brummell
396. Susanna Drake brown, Raintree County
398. Susanna Drake ivory and black, Raintree County
399. Susanna Drake dark red, Raintree County
Mae West
94. Peaches O'Day purple, Every Day's a Holiday - waist 24"
545. Leticia van Allen beige gown, Myra Breckinridge waist 26"
Many thanks to Lisa Urban for generously spending the time, during a very busy period, to get these measurements on the record.
[Photos by by Virginia Postrel. Full Flickr set here.]