Statement Watches: Messages, References, And Vintage Styling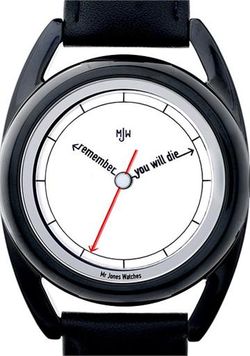 After my previous posts I assumed I was through writing about watches, but then I discovered the internet site Watchismo.com. Watchismo was started by Mitch Greenblatt as a site to sell "the most unusual vintage watches and chronographs of the mid-century through the space age, everything that is ahead of their time, then and now." Then Mitch's brother Andrew joined the firm as they expanded to sell new watches that, on the whole, seem to make some kind of statement about watch design itself. (Many of the watches mentioned in my post on watches that emphasize design can be purchased at Watchismo.)
One of the unusual watches on the site is Robert Jones' "The Accurate" watch, a timepiece whose hands read, "Remember, you will die." This is a translation of the Latin phrase momento mori, placing this watch in the long tradition of artistic creations that remind people of their mortality. Both the silver and black versions of this watch are polished to a mirror-like finish, so whoever looks at the watch will see themselves reflected in its surface. This tradition dates back to Roman times when victorious generals paraded through the streets. Behind the general was a slave who would periodically say, "Momento mori," or "Respice post te! Hominem te memento!": "Look behind you! Remember that you are but a man!" (Most of us can think of people, especially politicians, whom we imagine might benefit from wearing a watch whose hands read, "Remember you are but a man." Alas, Jones doesn't make that model, and, in any case, the people we would most like to give it to probably wouldn't wear it.)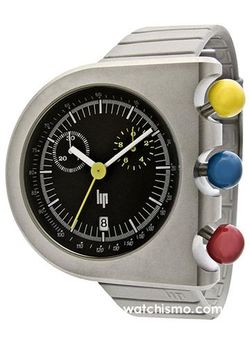 When I discussed status and power watches, I mentioned that their advertising is typically tied to vehicles with powerful engines and athletes who dominate their fields. This is "serious" stuff, so the design of chronographs tends to be tradition bound. This mold was completely broken by the French designer Roger Tallon with his LIP Chronograph Mach 2000, originally designed in 1973. This fun watch with it's colorful function buttons is as refreshing now as when it was first released. LIP watches are now being marketed in the U.S.A. for the first time, and watchismo.com is the representative.
Many of LIP's designs reference other designs. There are, for example, a TV series and a Fridge series, and these have overall shapes corresponding to their names. These watches, designed in the mid 70s, remain astonishing modern, a testament to the effectiveness of good industrial design.
Tallon's LIP Mach 2000 Moon watches were designed in 1973, and look like watches that would have looked great worn in the first Star Wars film, released in 1977. A new model, the "Dark Empire," looks perfect for Darth Vader.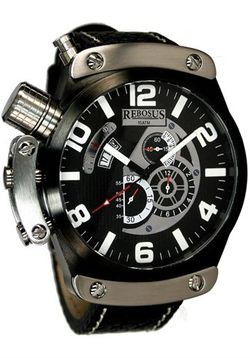 The industrial design angle is referenced in some watches by taking it over the top. This is case with Retrowerk Watches, which use antique-looking finishes and attach compasses, pistons, or levers to their unusual designs. Other watch companies, such as Rebosus (their RS002 Chronograph is pictured here) produce huge watches that look like an industrial machine when strapped to your wristes. Big watches have been a recent trend, and many of these have been gathered together in a big watches collection at watchismo. (It is here perhaps that readers may wonder if the firm's decision to call itself "watchismo" is ironic or self-revealing.)
The selection of vintage watches is fascinating, and, because of Mitch Greenblatt's interests, you can see many examples of watches that achieve digital readouts with mechanical numbers. In human experience, time flows sporadically, flowing quickly when we are engrossed, tediously when we are bored, and disappearing entirely when we sleep. Some of the watch designs at watchismo play with the concept of time by using unusual displays. Botta watches only use one hand. Nooka watches express designer Matthew Waldman's interest in showing time in a variety of unique ways.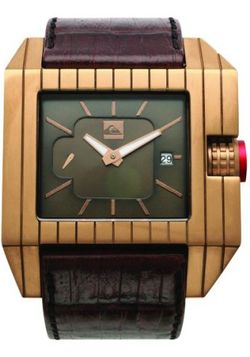 The origins of watchismo as a company for vintage watches, often emphasizing modern design, sometimes shows in their choice of contemporary watches. A good example is the Quiksilver Baron Copper Auto watch (shown in the photo), which is one of their most popular watches. Many things about this watch remind me of art deco styling: the colors, the vertical grooves, the facets at top and bottom, the graceful shapes, and the brown leather band. When I first saw this watch on their site, I assumed it was a vintage watch rather than a new one. It makes a fascinating contemporary tribute to an elegant, glamorous style.