Small Daily Pleasures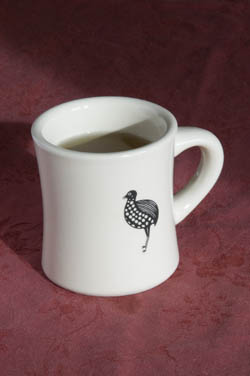 Twice in my life I have been invited into homes that contained no objects designed to provide visual pleasure. No artwork, no family heirlooms, no knickknacks, plain furniture, and plain food served on the plainest plates imaginable. In both cases the husbands were tenured university professors, so poverty was not the cause. One family was Quaker, but lacked the love of beautifully made, simply-designed furniture that many Quakers have. The other family was Jewish and had escaped Europe during World War II. Despite the husband's success in America, their outlook on life remained as bleak as their home.
In both cases I went home needing to look at some of the visual "treasures" my wife and I have collected for our home. Their cost, whatever that was, is not what makes them treasures to us--what makes them valuable is the pleasure we have in using and looking at them.
The mug shown in the photo is a contemporary version of one designed by architect Mary Colter (1869-1958) for the Santa Fe railroad as part of her Super Chief china. The quail motif is a stylized version of one found on ancient pottery from the Mimbres culture , long vanished from the American Southwest. Coulter was one of the first women architects, and she designed several important buildings for Fred Harvey and the National Park Service. Her buildings remain stylish even today.
I love having morning tea in this mug. It's beautifully shaped, sturdy, and feels good both in your hand and on your lips. Like most of the objects any of us collect, this one brings back memories and associations, including where we were when we purchased it.
Unfortunately, with familiarity we often take for granted the beauty and pleasure that our collected objects provide us on a daily basis. Sometimes it's good to remember, to stop and look at them. In an important sense, they help define who we are. I had taken a seminar with one of the professors mentioned above, and I learned more about him as a person in one quick glance around his living room than I had in a whole semester of discussions.