Silhouettes And Landscapes: The Glamour Of Window Views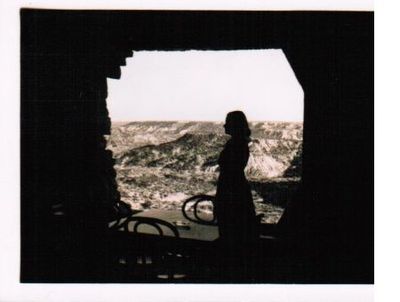 Taken in the 1930s, this vernacular (i.e., anonymous) photo represents one of the visual motifs particularly effective in creating a sense of glamour: a silhouette of someone contemplating a landscape vista. (In this early DG post, I discussed some condominium ads that used a similar composition.) Mysterious and stylized, the darkened figure invites us to identify with her and the longings she feels as she looks out on the landscape beyond her enclosed surroundings. This particular photo also creates a contrast between the settled world of bent-wood chairs and ashtrays and the wilderness beyond. Its composition glamorizes the possibilities of the distant hills. We could imagine, however, a reversed composition that made the interior seem cozy and inviting.
The juxtaposition of a shadowed foreground and a lighted vista can arouse similar yearnings for escape even without a human subject. This photo, contributed to the DeepGlamour pool by Flickr user Michele Strudwick, contrasts the open possibilities represented by the sea and lighthouse with the constraints of the darkened room from which we view that landscape.
The shadows are not entirely negative, however. They give the scene its mystery and, by framing the landscape, enhance the vista's grace. They show us just enough of the outside world to make it tantalizing.
[Photo by Flickr user Michele Strudwick used with permission.]