Renaissance Portraits At The Met: Self-Image And The Public Face
The Metropolitan Museum of Art has mounted an extraordinary exhibit called The Renaissance Portrait from Donatello to Bellini, which includes paintings, sculptures, medals, and preparatory drawings that are rarely if ever seen together. I was lured to the December press preview by the chance to see Botticelli's idealized portraits of Simonetta Vespucci (above) without a trip to Berlin. (I've previously discussed the right-facing portrait's resemblance to a certain contemporary star.) They are indeed spectacular.
But the most impressive display was the side-by-side comparison of two busts of Filippo Strozzi by Benedetto da Maiano: the terracotta study done from life, above, and the final marble version, below.
The two busts are the same, yet different: a portrait before and after subtle retouching. In the marble bust, da Maiano not only makes Strozzi looks less tired and absent but also changes the tilt of his head, giving him a nobler mien. He looks like a leader.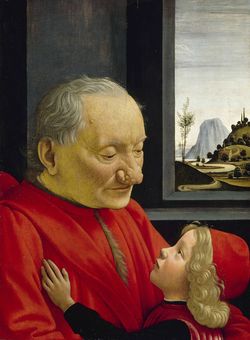 We've gotten so used to thinking about retouching as something done with pixels and Photoshop that we often forget not only how important it was to early glamour photographers like George Hurrell but also how unusual the ideal of non-idealized images was throughout most of western history. Until the rise of what historians of science Lorraine Daston and Peter Galison call the ideal of "mechanical objectivity," there would have been no question that a portrait should follow the Aristotelian ideal of producing a "likeness which is true to life and yet more beautiful."
This dictum applied more universally than we tend to think. In The Patron's Payoff
, Jonathan Nelson and Richard Zeckhauser note that "though many praise Ghirlandaio's Portrait of an Old Man for its 'realism,' the bulbous growth on the patron's nose was even more prominent in the preparatory drawing." You can see the final, glamorized version, which is in the Met exhibit, above.
As traditionally conceived, portraits are not like snapshots (most of which aren't that candid either). They're designed to present a public face. Within the constraints of likeness, they represent the persona the subject wishes to appear—assuming that the subject is the one commissioning the portrait. In The Pleasures of the Imagination: English Culture in the Eighteenth Century
, John Brewer discusses some of the dilemmas facing 18th-century portrait painters, whose clients could refuse to pay if they didn't like the results."The trick," writes Brewer, "was to understand how the portrait should be presented. Usually the client had a sense of how he wanted the sitter to appear. Part of a good portraitist's skill lay in discerning this; otherwise the commission could go disastrously wrong."
For instance, Jean-Ãtienne Liotard, who specialized in miniatures, was too realistic for his clients' tastes. (Here's a nice example of his work.) "His likenesses were very strong," a contemporary said, "and too like [i.e., accurate] to please those who sat for him; thus he had great employment the first year and very little the second." Ozias Humphry ran into a different sort of conflict when he was hired by a man who wanted a portrait of his wife. The wife, naturally, wanted to look young and attractive. Humphry complied—and infuriated his paying customer. "You have forgot that she is between 30 and 40," he wrote to Humphry, "and that I am 70, and that the character of a smirking Girl is very unfit for her situation, as I should have liked to have made her of more Importance, and I find some of my friends ridicule me upon it."
When I read that I thought of my official Bloomberg portrait. In real life, I look more or less like the photo on the left, which is a candid of me accepting the Bastiat Prize. (I'm well lit and well coiffed.) The middle photo is the one I use most of the time as my "official" portrait and is, except for reversing the hands, a characteristic post. (My hair no longer has those post-chemo curls.) The one on the right is my Bloomberg photo, for which I had professional hair and makeup and unknown amounts of retouching. But, most important, the photographer refused to let me smile. No "smirking Girls" at Bloomberg View! (For another contrast, check out Amity Shlaes at Bloomberg View, in a candid lecture shot, and on her own website.) The expression isn't my resting or serious face either; it's more attractive. So the picture looks like I'm an actress playing someone else—the same physiognomy but a different personality.
For more on Nelson and Zeckhauser's work on image building by Florentine patrons, including Strozzi, see my article here. The Met exhibit will be on through March 18. If you can't make it in person, you might want to get the gorgeous catalog
.
[Botticelli's Ideal Portrait of a Lady (right-facing image) and Ghirlandaio's Portrait of an Old Man courtesy of the Metropolitan Museum of Art. Other exhibit photos by Virginia Postrel and permission is granted to reproduce these photos with a link back to this post.]