Beauty Rituals And Their Tools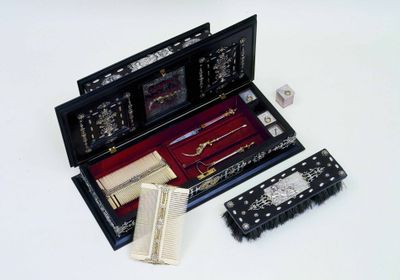 In a new exhibit, the French
Musée National de la Renaissance
has assembled
quite a collection of Renaissance toilet items
, including this luxurious set of 16th-century beauty tools. When grooming was a luxury, its tools were as well. In fact, the difficulty of making grooming tools cheaply was one reason that good grooming itself was a mark of social status. (Here's a
page of links
to photos of Medieval and Renaissance combs carved from ivory or bone.)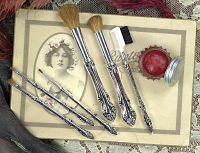 The ideal of a lady's luxurious vanity set lingered into the 20th century. My grandmother owned a typical version: a matching silver brush and hand mirror. If you search online, you can still find new
silver-plated cosmetic brushes
like these, but the
more-elaborate
sets will be vintage. (Check out this
nail set
.) The photos advertising them reveal a downside to such luxury:
tarnish
.
Nowadays, toilette is a routine chore, to be accomplished with efficiency. Accessories aren't meant as treasures or heirlooms but as useful tools, to be replaced when something better comes along. The most glamorous presentations of beauty tools promise not luxury but order: Buy
this organizer
, they suggest, and you'll finally get all that bathroom clutter under control.
[Photo: Coffret-nécessaire de toilette, Mathias Walbaum, circa 1595-1600. Musée historique, Bâle © Bâle, musée Historique / photo : HMB M. Babey.]