Fan Glam: MTV Seeks Comic Con CosPlayers
Glamour means different things to different people, which might account for this opportunity of a lifetime: New York Comic Con and MTV want to cast a fanboy or girl for a segment in the True Life docu-series.
Applicants, who must appear to be 16 to 28 years old, can express their love for comic books, anime, fantasy or manga by dressing up as a favorite character at New York Comic Con and letting themselves be stalked by an MTV True Life production crew. (Emphasis on appear--as well as appearing normal, but not over muchly so.) Apply here.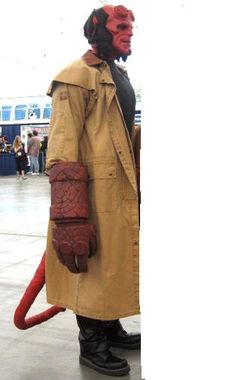 Applicants need to think long and hard about the effects this appearance might have upon future employment and romantic relationships. Dressing up as Hellboy or King Leonaidas could do wonders for even the biggest geek; parading around as the cancer patient from Fanboys will ensure a lifetime of misery.

Speaking of Hellboy--you know what they say--big hands, big gloves.