Musei Della Città Delle Belle Donne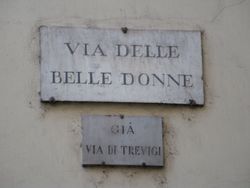 Not surprisingly, a city whose ancient streets include one dedicated to Beautiful Women takes the art of beauty seriously--and not just in the gorgeous faces depicted by Botticelli, Leonardo, and the Lippis.
You can buy perfumes and lotions at the Farmacia di Santa Maria Novella, the oldest apothecary in Europe, or spend nothing and enjoy the perfumed air while gazing at frescoes and centuries-old ceramics jars.
The Salvatore Ferragamo shoe museum confirms Andy Warhol's observation that department stores and museums are much the same. It also demonstrates, in the contrast between its historic archives and the current exhibit of shoes from the movie Australia, that the chunky styles of the 1940s look better in larger sizes. (There's another YouTube feature, with background on the museum, here.)
My favorite discovery, however, is the tiny Museo della Ciprie, or Museum of Powder Boxes, really just a special room in a perfume shop on the tony Via de' Tornabuoni, not far from Ferragamo. The museum houses a collection of the decorative boxes in which face powder was sold through the first half of the 20th century. How do you package the promise of beauty? Here's a slideshow of examples.