Mechanical Watches: Symbols Of Status, Power, And Conquest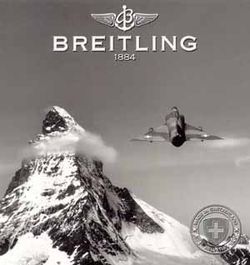 As mentioned in a recent post, mechanical chronograph wrist watches are symbols of status, power, and conquest for men that can afford them. One of the most interesting blogs about watches is Ablogtoread.com, and as was once posted there:
A lot of the time I wake up and want to wear a serious "show me the money" watch. That isn't about glitz, but rather about "I am going to go out and
conquer the day
!"
Some history is required to explain why some watch makers are "show me the money" brands, and why these watches are usually mechanical. Making an accurate, portable mechanical clock is extremely difficult, but the need for one was critical. The invention of the marine chronometer in the 18th century by Yorkshire carpenter John Harrison revolutionized marine navigation. It has been argued that the building of the British Empire depended on the dominance of the Royal Navy, and that this dominance occurred during a period when the ships of the Royal Navy had marine chronometers and their opponents' ships did not. Accurate chronometers later proved crucial for aviation navigation, and they are useful for land warfare. During World War II the American watch company Hamilton perfected the mass production of accurate wrist watches and shipped more than a million of them overseas.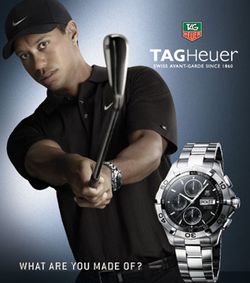 Given this history, it is not surprising that manufacturers of prestige watches like Omega, Rolex, TAG Heuer, Breitling and others advertise this association with marine and aviation navigation. They also use images to connect to airplanes, trains, and racing and luxury ships and cars. Breitling, for example, frequently uses images of military planes, and also has an association with Bentley automobiles. And any male athlete who is a highly dominant figure in his sport may be approached to represent a luxury watch company. Thus the ads for Tiger Woods and TAG Heuer suggest that wearing a their watch implies you are "made of" the same dominating stuff as Tiger Woods.
Ironically, in the 1970s mechanical watches were quickly outclassed in accuracy by quartz watches. A typical quartz watch is accurate to 1/2 second a day, and rated quartz watches can be accurate to within ten seconds a year. Highly accurate mechanical watches can be accurate to about 1/10 second a day, but this kind of accuracy in a mechanical watch comes at enormous expense, especially as you add "complications."
Complications are watch functions other than telling you the time. Typical complications are date functions, stopwatch functions, lunar phases, and so on. To give an example of the relative costs of adding complications to a watch using electricity versus purely mechanical means, consider the Citizen Campanola Grand Complication. This watch is discussed in detail at ablogtoread, and there he estimates that this complex watch (which sells for approximately $3,000) would cost $80,000 if duplicated as a mechanical watch.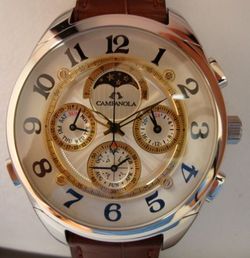 Much of the work on the Campanola is hand done, with attention to finishing details that would rival any luxury watch. But for years neither Citizen nor Seiko attempted to sell their high-end watches outside of Japan. They realized that in places like the U.S.A. they could not compete with the brand snobbery associated with luxury watches. They faced the same issue that Toyota faced in trying to compete with Audi or Mercedes Benz. In the U.S.A., Toyota was known mostly for making well-made, but relatively inexpensive cars. So Toyota created Lexus as a division of high-end automobiles. Likewise Citizen has created Campanola as a separate division in order to market this watch. (The watch that ablogtoread first reviewed was labeled Citizen, but now the watches are labeled Campanola. After all, what CEO would want a watch that suggested he was an ordinary "citizen.")
Once upon a time owners of mechanic watches might have taken comfort that if a worldwide catastrophe stuck while they were out on their yacht, causing all electrical battery supplies to vanish, their mechanical chronometer would still allow them to keep accurate time. But now there are quartz watches that use light (or pivoting mechanisms that move when the watch is worn) to power storage batteries, and thus they never need replacement batteries. So owners of those watches would still be able to tell time (and most likely more accurately too).
Because of their accurary and advantage in production costs, quartz watches now account for the majority of watch sales. Because of their tradition, high price, and mystique, mechanical watches still retain top status as collectibles. But even the luxury brands now use quartz movements in some of their watches, and who knows if future generations will care that mechanical watches might at one time have helped conquer the world. As reader belle de ville pointed out relative to my last post on watches, jewelers don't yet know whether the cell-phone, iPod generation will bother to wear watches at all.