Maximizing The Value Of Art: What Happens To Annie Leibovitz's Oeuvre?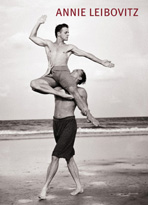 The deadline for Annie Leibovitz to settle her $24 million debt to Art Capital Group has come and gone without public comment from either party. But that doesn't mean Leibovitz's problems have disappeared, only that no one is talking to reporters.
Amid the mass of commentary on the photographer's financial troubles (including Andrew Goldman's definitive New York narrative of how she got in such a mess), an interesting theme emerged. If Leibovitz forfeits the copyrights to her work—part of the collateral she put up to borrow all that money—what might the new owners do with them?
My hope is that they'll make reprint rights easily and cheaply available to authors working on books about glamour. (I'm particularly interested in this photo.) But the speculation involves a much larger market.
"Until now, Ms. Leibovitz has closely guarded the right to reproduce her photographs," the NYT's Allen Salkin wrote. "But should she lose control of her archive, her famous portraits of Whoopi Goldberg, Jack Nicholson and the like may one day be found on postcards in Times Square."
Losing the copyrights, wrote the LAT's Paul Lieberman, "could result in the outright sale of her photo copyrights to a party who might decide it's better to market her images in lots of 1,000, or on postcards, not the fine-art limited-edition approach she has embraced." And in a Sunday Times piece cobbled together from pieces of American journalism, the unbylined author referred to "the worst-case scenario" in which "her classic portraits of the likes of Jack Nicholson, Bruce Springsteen and Cyndi Lauper may end up on postcards." (Emphasis added.)
What's so bad about postcards?
One argument is that postcard printing is usually less than ideal and therefore makes the photo look worse than the artist intended. Some of Leibovitz's photos are already available as postcards
, however, as the photo of the boxed set above demonstrates; singletons are plentiful on Ebay and also available on specialized sites.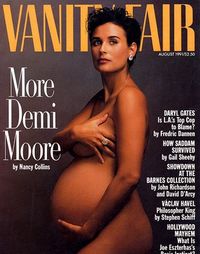 Besides, postcards aren't a substitute for fine-art printing. They're made for an entirely different market, one prepared to spend tens of thousands of dollars on a single picture. Berenice Abbott's photos of New York, particularly Nightview, have become iconic, and literal, "postcard clichés," but collectors still buy original prints. (And let's not even talk about Ansel Adams.)
What's especially interesting about the objection to Leibovitz postcards is that her famous portraits, like this one of the pregnant Demi Moore, were originally made for mass-market magazines printed in large quantities on relatively cheap paper with type surrounding the portrait. The difference between an Annie Leibovitz photo in Vanity Fair and an Annie Leibovitz photo on a hypothetical Times Square postcard would be noticeable, but it's not exactly the difference between The Birth of Venus on the walls of the Uffizzi and The Birth of Venus on the corner tabacchi's souvenir rack.
The postcard problem—which may or may not be something Leibovitz herself is concerned about—suggests that the value of art, particularly of photography, lies in its physical scarcity. Postcards are just too cheap and common. Unlike magazines, which have limited circulation, they keep getting printed as long as the demand is there.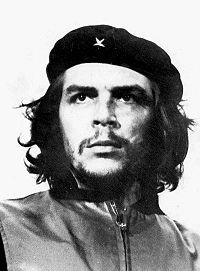 Now there is, of course, an economic calculation to be made by whoever owns the rights to an image. What sort of licensing will maximize revenue? That's a pragmatic question that requires some market research and educated guesses.
But for artists and critics, postcards ought to be unalloyed good news. They enlarge the audience for the image and embed it more lastingly in the culture. Most portrait photographers can only dream of creating an icon like Alberto Kordo's photo of Che Guevera or Sam Shaw's photo of Marilyn Monroe with her white skirt flying up.
Putting Annie Leibovitz's photos on widely distributed postcards would provide a tough artistic test: Can these images hold up as icons? How much does the celebrity of their subjects matter to their appeal? Does Leibovitz's composition rely too much on gimmicks? Take a look through some galleries (here, here, and here) and see what you think.