Makeover Week: The Extreme Makeover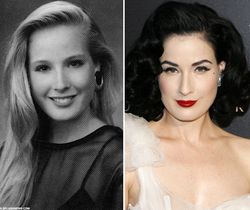 Burlesque star Dita von Teese (née Heather Sweet) has said that she didn't wait around to become beautiful – she remade herself to become beautiful. She transforms her facial features with pale foundation that covers never-to-be-seen freckles, red lipstick, winged eyeliner, and a tattooed beauty mark. She wears corsets that artificially constrict her waist. And, as a natural blonde, she dyes her hair an inky black and sculpts it to Veronica Lake perfection. She explicitly embraces artifice, which I deem a welcome alternative to the prevailing notion of natural-as-beautiful. As we discuss makeovers here on Deepglamour.net, I think one type of makeover deserving of attention is temporary, extreme transformation. Often the goal of a makeover is to become a prettier version of oneself, but sometimes the goal is akin to achieving an altogether different persona.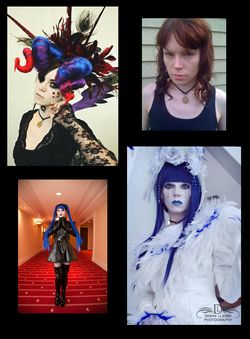 For performers like Dita, the transformation is clearly for professional reasons as much as personal. Lady Gaga, David Bowie, Boy George, Prince Poppycock, and many other celebrities established a distinct public persona through exotic makeup, wigs, hats, and clothing. But extreme makeovers aren't just for professional performers. In fact, anyone can achieve a dramatic transformation for the sheer enjoyment of it. And there are many subcultures and hobby interests that embrace costuming for special events. Less often, people choose an exotic look for everyday wear.
Consider Aimee Elizabeth, a young lady from the Washington, D.C. area. Currently, Aimee sells cosmetics for a living. But on her own time, she designs and sews elaborate costumes for costume play, or "cosplay," events. Themes and inspirations include: Gothic Lolita, Disney, cyber and "perky Goth," FX make-up, Japanese and ancient Egyptian culture, mythology, urban legends, and horror films. (For more on cosplay, see this DG Q&A with photographer Ejen Chuang about his book Cosplay in America.) Naturally a green-eyed, fair-skinned brunette, Aimee Elizabeth created a colorful cosplay persona she calls "Laydee NekoAmi Chan." She has executed dozens of costume looks that include theatrical makeup effects, colorful horns and grand hair ornaments, doll-like Asian-inspired dresses and petticoats, and enormous platform boots.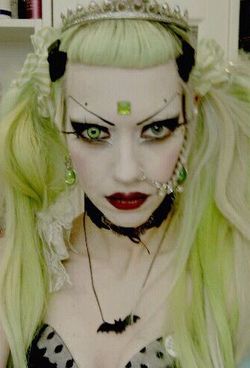 In far-away Sweden, another creative lady, a wife and mother, has become something of a Facebook and YouTube sensation. Whatever "Adora Batbrat" might look like sans make up, one can only guess. But the self-described "Martha Stewart of Goth" regularly posts public images of her "make up of the day," which involves sharply stenciled brows, elaborately swirled and dotted eye make up, false eyelashes, face jewels, and freaky contact lenses. Her light color hair is tinged in colors that vary from cotton candy pink to lilac to light green, and usually topped with a crown or headdress. She also sports tattoos and permanent vampire-like fangs, conjured up by her dentist.
Adora Batbrat seems to have simply decided to embrace an extreme makeover as a matter of daily life rather than profession. "I never could have figured out so many kind people wanted to be part of my life and let me share theirs but I'm very happy about it, and you are all most welcome," she tells her Facebook fans. "For those who just think I look cute and know nothing about me, I'm a Swedish alternative model, a Goth make up guru at YouTube, loves electro music. I'm a mother of 3 kids." (She explains her makeover philosophy over on her blog.)
What I admire about people such as Dita von Teese, Aimee Elizabeth, and Adora Batbrat is their glamorous vision for beauty and self-transformation and their will to achieve it. It's not for everyone, nor even for most of the people most of the time. Yet it's inspiring to see that anyone who desires to re-imagine themselves can create a delightful, fleeting illusion.
Don't forget to enter our special Makeover Week giveaway of IntésivEye eye-makeup remover pads. Details at the post below.