Makeover Week: DG Q&A With Makeover Artist Diane Gardner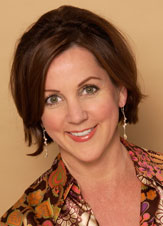 These days, hairdressers tend to concentrate either on cutting and styling or on color--and they certainly don't do makeup. But Diane Gardner knew at an early age that she wanted to do it all. "I thought that in order to transform someone you had to do all three services," she says. "Because you have a vision, and then someone else takes it away from you when they do one of the other services."

At 19, she moved from New Jersey to Manhattan to hone her skills. She started with color, training at Louis Licari's La Coupe salon on Madison Avenue. With Licari's grudging permission, she then "moved downstairs" to apprentice with Antonio da Costa Rocha, who, she says, not only taught her how to cut but "how to style in a very glamorous way."

The trick, then, was to learn makeup. Fortunately, Trish McEvoy, then an aesthetician, was a La Coupe client. She offered to teach Diane makeup in exchange for doing her staff's hair. After that beginning, Diane apprenticed with makeup artist Sandra Bocas (now also a fine artist). "Sandra took me into a lot of places I never could have gotten into," she says. "I started doing TV commercials and runway makeup with her, and I loved it."

But, she recalls, "now that I had all three [skills] nobody would hire me, because I wanted to do all three." She started her own salon in New Jersey and later, at the urging of clients who were socialites from La Jolla, moved there, eventually migrating north to Los Angeles. In 2002, she set up her website at MakeoverSpecialist.com--just in time to catch the makeover-TV show craze. She did some work for shows like Movie and a Makeover and Fashion Emergency, but mostly she pulled in new clients who'd Googled "makeover" after watching their favorite shows. At the peak of the craze, she might do 42 makeovers a week.

Nowadays, most of her clients are regulars, but she still gets one or two makeover Googlers a week. During a break in my own makeover (which you can read about later in the week), I interviewed Diane about her experiences.

Virginia Postrel: Where do your makeover customers come from? Are they brides?

Diane Gardner: Weddings are a big part, but not the majority. The majority come from the Internet. I put my website up in 2002, and that was the peak of the makeover TV shows, so everybody started Googling "makeover," and that's how people have found me.

VP: So when people come to you for makeovers, what are they picturing?

Diane Gardner: Usually they don't have a vision in their mind. They don't know how they could look their best, but they want to trust me to give them what looks best. The number one request is to look natural. Everybody wants to look natural. And youthful.

VP: So why would they come to you for a makeover as opposed to say going to their usual hair stylist, or going to the MAC counter at Bloomingdale's?

Diane Gardner: They usually come because they want to treat themselves. Sometimes a life-changing event has occurred. Sometimes it's just that the kids have gone off to college and now it's time for them, the women. Or it could be a young girl that's coming out of college and now she wants to look like a young professional. Sometimes men will come for a makeover because they want to meet girls and want to look their best.

VP: How is the sort of makeover you do in real life different from a movie makeover or a reality show makeover?

Diane Gardner: I teach people to sustain the new look that I've given them. It could be in the form of regular color services. The makeup regimen is something that they can repeat over and over again and know that it's going to look the same every time they do it themselves. And they can come back to me for regular haircuts.

VP: In real life, do people usually keep the look?

Diane Gardner: They usually keep it. A lot of times they'll come back to me and say, "How does my makeup look? Am I doing the right thing? Does my skin look as good as it could? What do you recommend?" Or sometimes they'll come back and say, "I love what you did. Let's try something a little different," usually in the form of a haircut.

VP: How often do you do makeovers?

Diane Gardner: A new client will come to me for a first-time makeover a minimum of once a week, and that's someone that will find me on the Internet, on Yelp. There was a time when I was in Beverly Hills and the makeover shows were running where I would book 42 makeovers in a week.

VP: What spurred that interest? What were they looking for?

Diane Gardner: I think it's the glamour. I really do. Because when you were watching those shows—and there are still some of them on television—they go from Plain Jane—of course they start with no hair, no makeup, no hair color—to looking absolutely glamorous.

VP: Right. And they think, "That could be me." So having this expert treatment is part of the glamour of it.




Diane Gardner: And the enjoyment. I think it's an indulgence, because a lot of women really don't take care of themselves, they take care of other people first.

VP: Are there any particularly memorable makeovers that you've done that you can talk about?

Diane Gardner: When I moved to L.A. in 2000, I sought out a wedding coordinator I found in the Yellow Pages. She said to me, "I don't hire new people. You're from out of town. I don't know your talent." And I said, "But you have to give me a shot, you have to give me a chance. I know what I'm doing." Finally she booked me a bride. She sent me up to Malibu, and she never told me that the bride had had her face burned and had missing eyelashes and part of a missing eyebrow with the burn scar. I walked in the door, and I thought, "Oh, I know what she's doing." [laughs] So I did this girl's hair and makeup, and put on eyelashes and painted in some brows, and did her hair and made her feel absolutely stunning and gorgeous and beautiful, and she was so happy.

VP: So you passed the test.

Diane Gardner: Another of my most memorable moments was in March 2006. I got a call from that same wedding coordinator, and she said, "You have to come to this home in Beverly Hills. Drop what you're doing, drop your client, you have to come here now. Her Majesty Queen Noor is here for a fundraiser. She's coming from Larry King's studio, and I know that you know the difference between television makeup. And she's greeting 200 guests tonight." And she goes, "But I don't know how to tell her that." So I told my client, "Listen, do you mind if I run?" And my client understood.

I get to this particular residence and I'm briefed by awoman who tells me what the protocol is. She introduces me to the queen, tells me I have to refer to her as "Your Majesty," and of course you don't speak unless you're spoken to. Well, I took one look at her and she had pancake makeup on. And she's one of the most stunning women I've ever seen. But her hair was heavily sprayed, and her makeup was way too heavy to be greeting guests in person. So it was difficult for me to say, but I did it anyway. She came in and she said, "Oh, I'm sorry. I know they hired you, but my hair and makeup is done." And I said, "Your Majesty, I see that, but it's television hair and makeup, and so I'd like to—" And she looked at me and at first she was taken back by that. And I said, "It's just that you're presenting yourself to the public face-to-face, and television makeup's completely different." And then she just turned around and said, "OK, do what you want." But then she questioned me about every little thing I was doing. As a queen would. So this is my most memorable makeover, because it was done within a one-hour period of time. She looked absolutely stunning afterwards. And when she looked in the mirror she understood.

Don't forget to enter our special Makeover Week giveaway of IntésivEye eye-makeup remover pads. Details at the post below.