Glamorous Places: Tuscany Or Paris?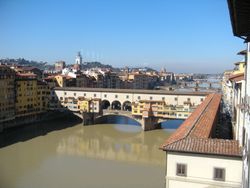 I often say that I wasted my youth learning French. What I usually mean is that I should have studied Spanish, a language I could use nearly every day in my Southern California life. But, given the opportunity to learn another language, Spanish isn't the one I chose.
I'm in Florence, spending the next month taking Italian four hours a day. It's a post-cancer adventure, and a retreat in hopes of getting a bunch of book writing done.
The contrast between my youthful devotion to French and my current interest in Italian (an interest that actually dates to my college studies of the Renaissance) tracks with a shift in U.S. culture. Sometime during my adult life, Paris stopped being Americans' ideal of glamour and was replaced by Tuscany. Look at all these Tuscan makeovers on HGTV, 476 to be exact, (here's the Parisian competition, only 29), or these 56 features on French style, compared to 100 on Mediterranean style, mostly Tuscan. Paris still has its fans, of course, but when the typical middle-class American envisions the perfect escape, Tuscany, not Paris, comes to mind.
Hence, before I left, everyone asked me the same question, Have you read Eat, Pray, Love
?
Glamour supplies something people feel is missing in their regular lives. In the era when Paris was the epitome of glamour, Americans were longing for cosmopolitanism and style. Now America is arguably more cosmopolitan than Paris--certainly Los Angeles is--and la mode is as easily found in Italy (or rising from U.S. streets.) as in Paris. What is glamorous today is a life of enjoyment and simplicity: good, fresh food in a beautiful place. Tuscany.
Of course, as anyone who has read Under the Tuscan Sun
knows, the ideal of Tuscany as the good, simple life leaves out a few things--notably the way things have a tendency to break down and the difficulty of getting those things repaired efficiently. Glamour always omits the blemishes.
I'm not, in fact, attracted to the good, simple, rural life. Preferisco la città. (I prefer the city.) My glamorous Firenze is the one that drove the Futurists crazy--the museum Florence of past greatness, not present life, a Tuscany of striving and strife. I haven't read Eat, Pray, Love. I've read Macchiavelli, Castiglione, Galileo, Vasari, and Petrarch. I'm here for the art and the history. But the food is definitely a plus.