Learning How To Entertain: Then And Now
When my mother-in-law was a newlywed in the early '70s, she went to some pains to learn how to entertain and how to cook. In 1971, she subscribed to a weekly publication called the Grand Diplôme Cooking Course, which promised that "week by week" she would "learn to cook the International Cordon Bleu way."
A couple of weeks ago, she was going through some old things and found her old collection of Grand Diplômes, which she passed on to me—not to teach me how to cook, but because she knew I'd think they were cool artifacts of an earlier era of food and entertaining.
They are coo—and they also feel completely foreign to me. The food sounds old-fashioned, which is in part a language issue (yesterday's aspic is really just today's gelee) and in part a function of modern cooking's emphasis on fresh ingredients and lots of herbs and spices for flavor.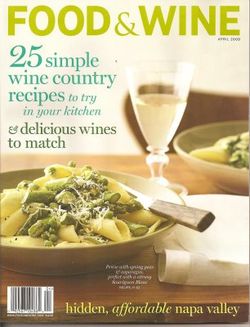 The photos of the food, too, are obviously from another era. Head-on shots of carefully arranged, spot-lit food against a plain black background look positively archaiac next to today's magazines, which are all about the "food porn" look—messy, colorful, half-eaten, and surrounded by tableware (MediaBistro's farewell look at 10 Gourmet covers tells that story, too).
But that's just the food. The Grand Diplôme series isn't only a cookery publication. It's also about entertaining gracefully and this is where its age really shows. In issue 14, the Grand Diplôme instructors serve up a two-page article called, "Set a Perfect Table." The feature includes a handful of tips on aesthetics ("change the centerpiece occasionally to vary the routine—use a handsome bowl of polished vegetables; a small potted plant or fern in a brass container; a crystal bowl filled with grapes of several varieties") but the majority of it is dedicated to explaining, with exact measurements, where plates, silver, and glasses should be placed on the table.
Plus, though the magazine includes numerous color photos of carefully arranged food, the table setting article is illustrated only with a couple of casual drawings: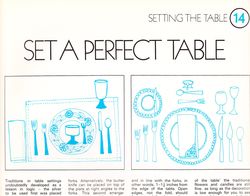 The day I brought the Grand Diplôme collection home, I also received an email about a new publication called Nesting Newbies. Its purpose is also to help young people learn how to cook and entertain and every issue includes a feature on table-setting (they call it "tablescaping," of course - a word that I hate but secretly find useful.) The magazine's second issue's article is all about mixing vintage china and silver with modern pieces to create pretty tables. It's illustrated with tons of color photos and rounded out with shopping suggestions—and there's nary a mention of exactly how far the water goblet should sit from the knife (one inch, if you're wondering).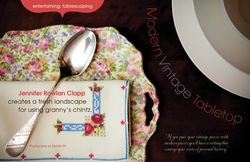 What I don't know is whether the change in literature actually reflects a change in how we entertain. When my mother-in-law tells stories about her first dinner parties, they sound raucous, hilarious, and not at all stiff. She's never mentioned spending hours carefully placing silverware just so, but maybe she did.
When I have people over, I know I do think about the "tablescape," even if I hate to say so out loud. Are the actual parties any different? Probably not, but I just don't know.