Leaning Boards: Behind-the-Scenes Support For Classic Hollywood Costumes
I first read about leaning boards in Ronald L. Davis's The Glamour Factory: Inside Hollywood's Big Studio System
. Davis writes, "For the screen, clothes, above all, must be photogenic. Comfort and practicality were of little concern. Many of [Adrian's] gowns were too tight for actresses to sit in, requiring them to recline on 'leaning boards' between takes."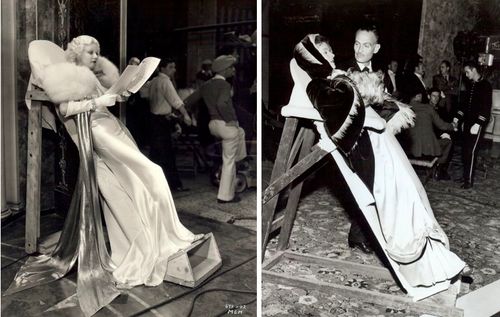 Jean Harlow in Dinner at Eight (left) and Katharine Hepburn with costume designer Walter Plunkett in Sea of Grass
This bit of film history struck me as the perfect example of how the grace you see on the screen is created by hiding the -- in this case, literal -- support behind the scenes. But I'd never seen a photo of a leaning board, and imagined that perhaps there weren't any, until Christian Esquevin included one in this Silver Screen Modiste post about MGM's costume operations.
Were there more? I asked Christian. There were, indeed, and he kindly scanned some to share with DG readers. In the two above, the leaning board is doing what Davis suggested in his book, allowing actresses in very tight dresses to rest without sitting. (Closely examined, the Hurrell photos from Dinner at Eight reveal that Harlow was sewn into her Dinner at Eight dress, sans underwear.)
In the third photo, of Rosamond Pinchot as Queen Anne in The Three Musketeers, the costume is not so much tight as heavy. The same is true of the photo Christian featured in his blog post. There, Jane Halsey is wearing a 102-pound beaded costume for The Great Ziegfeld.
That got me to thinking. Nowadays, Lycra makes tight gowns a lot easier to move in (though wrinkles are always a potential issue). But what did Natalie Portman (and the rest of the cast) do between takes while wearing those elaborate costumes in the (execrable) Star Wars prequel? Are leaning boards still around?
Tomorrow we'll have a Q&A with Christian Esquevin, including some wonderful examples from his collection of costume design sketches. Tune in.
[Photos from the collection of Christian Esquevin.]