Junky Styling: Recyling Glamour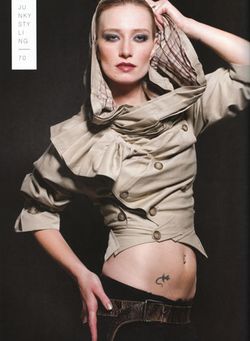 The striking garment shown at left was created by deconstructing a rain mackintosh, recutting the material, and then recombining the resulting pieces with extraordinary imagination. It is typical of the work produced by a London-based company called Junky Styling. The company's name is an ironic reference to their use of second-hand clothing as their raw material. The transformed final garments are stylish, well-constructed, and finished in great detail. Vogue called their clothing "high fashion street couture."
As teenagers Annika Sanders and Kerry Seager began taking men's suits (bought from second hand shops) and turning them into experimental garments to wear to clubs. "We began because we wanted to dress differently. Initially, it was all about unique design, and we were able to achieve this through cutting up clothes that were second hand." While traveling they noticed that textile recycling was already happening in cities like San Francisco and Tokyo, and their own designs drew lots of compliments. Their London friends began to commission outfits, and this led to a market stall in Kensington Market. In 1997 they launched Junky Styling, and their clothing is now stocked in shops in cities like London, Paris, and Hong Kong.
I learned of their work through the new book Junky Styling: Wardrobe Surgery
. The ethos of their company is "timeless, deconstructed, re-cut, and completely transformed clothing," and they are so committed to recycling textiles that their book contains a how-to section with basic instructions for some of their most popular designs. Intrigued, I asked them a couple of questions.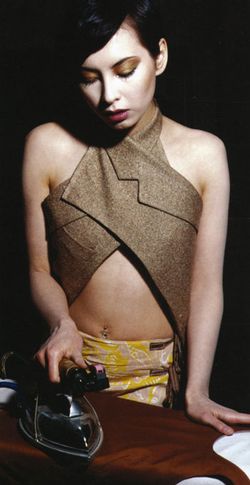 Deep Glamour: Your use of men's suits and shirts as primary sources for material is interesting. Did you do this because of the quality and quantity of the material in these items, or is there a certain provocativeness in reworking these normally staid items? Perhaps both?
Kerry Seager: Yes both! The combination of using such fine, quintessentially British fabrics that have truly stood the test of time and then transforming them into very apparent recycled styles really works for us. 'City' items that evoke a certain thought process in people tend to work really well when redesigned as there is that instant familiarity, that then provokes the next question as "Is that..." or "How did..." which is why our customers are addicted not only to the recycling aspect of our label, but the conversations they have with strangers when wearing Junky.
(The crossover top shown at right was one of their first designs, and perfectly illustrates both the sense of familiarity with the suit elements and the surprise at what was done with them.)
DG: You mention that it might have been helpful to have had more tailoring experience in starting your business. Do you think that not having conventional training in tailoring might have left you more open to thinking about design in unconventional ways?
KS: Certainly our lack of training enabled us to produce the freestyle designs that we do, as there is no doubt of the freedom that a sewing machine and cloth (with no constraints) can provide you with! I think though that training is an integral part of progression, as the skills enable you to realize your vision quicker — vision of course can't be taught, but French seams can.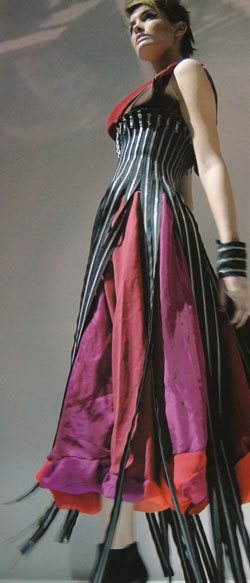 Over the years the Junky crew has grown larger. The zipper elements in the dress at right were created by Eric Holah. Their website lists some locations where you might see some of their work.
As the images in their book and on their website illustrate, garments based on the same design can look remarkably different when produced from different second-hand material. These are definitely one-of-a-kind garments, and many are made to fit for individual clients. (The process is outlined here.)
Junky Styling designs garments for both men and women. In addition to shots of models wearing their clothes, their book contains photos of some of their customers wearing their favorite items. Wearing such garments draws attention. Chris Richmond, a video director and film maker wrote, "I'm not a show-off (I'm actually quite shy), but I enjoy the comments that I get when I am wearing Junky clothing." Kurt Williams, an actor and jewelry designer, said he wears his favorite jacket when "I'm feeling a bit resigned or subdued so people can focus more on the jacket and less on me."
In the book's foreword fashion writer and broadcaster Caryn Franklin describes checking out Junky Styling by having them make her something, and she writes that the garment that they created out of an old Paul Smith suit jacket "frankly looks better on me than it ever did on the hanger gathering dust in my husband's side of the wardrobe." I cringed when she mentioned that he had "unknowingly donated" the jacket. Though it made a good story, I suspect most women would find secretly commandeering some of your husband's upscale clothing a risky way to recycle.
[All photos used by permission. The rain mac photo is by Ness Sherry. The crossover top and zipper creations photos are by Luz Martin.]