Portrait Of The Blogger As An Old Bat
John Singer Sargent famously described a portrait as a " likeness with something funny about the mouth". Today's NYT has a piece about people and their portraits, and judging by the examples shown, these subjects would have been lucky if the mouth was the only funny thing.
Don Bachardy is shown with his scary clown version of actress Natalie Schafer, best known as Mrs. Thruston Howell III or Lovey on Gillian's Island. Since she's dead, who knows if she she liked the portrait or not--but as Bachardy's got it, her heirs might not crazy about it. Bachardy's a real artist, with a real point of view, and if you're looking to be immortalized and flattered, he might not be your best choice.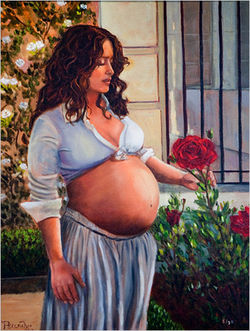 I'm guessing that those who chose to be painted by gazillionairess Margie Perenchio must have hoped that they'd look well, perhaps better than in real life. She painted Salma Hayek (and produced Frida), and I can only hope Hayek was polite about it. Look at that right hand--it's the size of a small dog.
Perenchio charges $12,000 for a portrait, but graciously allowed Les Moonves to make a donation to a charity instead. She worked from a photograph for her rendition of Moonves and his wife, Julie Chen. If this was my portrait, I'd hang it at Goodwill.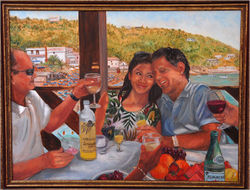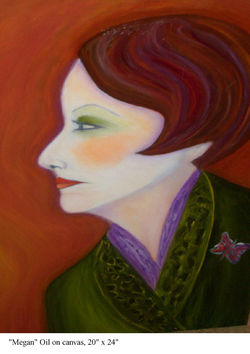 Mentioned but not shown is the work of Maxine Smith, who like Perechino is married to a media mogul.There's a lot of Matisse there, but real heart as well.
Also not shown, which is a real pity, is a portrait of George Hamilton by Ralph Wolfe Cowan. Now, that's a portrait.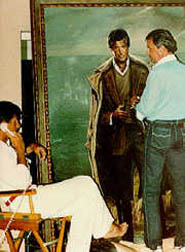 Recently, I've had my own portrait done. My daughter captured me in a characteristic pose. Look how cleverly she avoided the whole question of the mouth.