Image Creates Reality: The Persistence Of Ruffs
This completely unauthorized and illicit photo (click for a larger view) is from an exhibit currently installed at the Palazzo Medici Riccardi in Florence. With an evocative name that translates "The Medici: The Dream Returns," the show features life-size, and three-dimensional, versions of personages known only from their portraits. Recreated by Belgian artist Isabelle de Borchgrave, the clothes are made not of silks and laces embroidered with gold but of paper and paint. (Good photos and a video in English are on her website here.)
Paper, says de Borchgrave, "is a very simple, undaunting material. There's not the same fear of ruining it as there is with cloth. I create a trompe-l'oeil, an illusion, as in painting, as is the Chapel of the Magi frescoed by Benozzo Gozzoli," the museum's signature work, whose portraits feature carefully rendered textiles.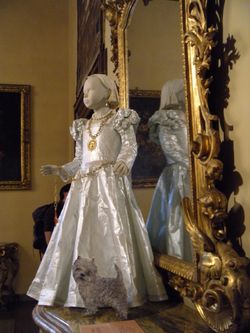 Perhaps because its material is so scratchy and yet so light, the exhibit reminded me of an observation about the relationship between painting and fashion made by the brilliant fashion historian Anne Hollander in a 1991 essay published in The Idealizing Vision : The Art of Fashion Photography
. Hollander wrote:
In the superior world of the painter, noble personages in all sorts of awkward gear were created and presented in a state of ideal dignity and refinement; and so a standard was set for perfect appearance that might be followed by the living originals, who could feel beautiful in their trappings instead of trapped. Consequently, still bigger lace ruffs and even thicker silk skirts might continue in vogue, even into the next generation, because Rubens and Van Dyck and their colleagues were at work rendering them glorious to see, wonderfully becoming, and apparently effortless to wear.
Of course, it's also possible that those people looked in their mirrors--or at each other--and wondered why they couldn't live up to those glamorous images. Could a little girl in a dirty world ever have a dress this white?