How Barbie Lost Her Glamour, And How She Might Get It Back
Barbie was never meant to be naked, anyway. The countless accessory packs filled with every imaginable wardrobe need affirmed that the point of the doll was the clothes, and not the other way around. Fashion provided the details that gave life to Barbie's world, inspiring girls' play with scenarios of lavish shopping excursions and elegant cocktail parties. The molded stiletto sandals, fur-trimmed sleeves, and velvet pocketbooks all suggested, but didn't proscribe, starting points for a fantasy.

The tiny clothes were glamorous in their own right, modeled on the real-life wardrobes of icons like Grace Kelly, Audrey Hepburn, and Jackie Kennedy. It helped that they were designed by a fashion designer and hand-sewn by Japanese home-workers under her supervision. Paris's haute couture was the inspiration through the early 60s, with designs modeled after those by Hubert Givenchy, Coco Chanel, and Cristobal Balenciaga. Paris was supplanted by London mod later that decade, and the Twiggy look was a natural fit for Barbie. She had more casual outfits as well, but they were tailored and adult, never too girlish.

This aspirational adulthood at the core of Barbie's glamour started to fade in the 1970s, a direct result of evolution in the design of the doll and her accessories. Barbie started going in for regular plastic surgery as early as 1961, and the result was that she got younger and younger looking over time. Looking back, Barbie #1 was probably too old ("the face of a 40 year-old woman whose seen a lot of action" in the words of one collector), but as they say, cosmetic procedures can be addictive, and by now Barbie has had so many that she looks barely 15. Likewise, her fashion sense has gotten more casual, more girly, and less couture over time. No doubt this movement reflected trends in real-world fashion, but it made Barbie less of an elegant model. Mattel amped up the youthful girlishness with the introduction of liberal doses of pink, which though now ubiquitous was never a major influence until the 70s.

This younger, brasher form of femininity made Barbie more relatable but less aspirational, and her audience has steadily down-aged with her. Ruth Handler originally intended the doll for girls aged 8-13, but for a 13 year-old, there's nothing glamorous about a doll that's pretty much just like your older sister. Now girls are done with Barbie by age 6.
The other essential aspect of Barbie's glamour was a certain aura of mystery that allowed you to fill in the details of her life in whatever wonderful ways you pleased. But Barbie got a little less mysterious in 1972, when designers traded her classic downward gaze for a direct stare. This made her more open and less enigmatic, and I think that had to change the relationship girls had with her. Now Barbie engaged with you; she was a friend and a playmate, like your favorite babysitter rather than an icon from the movies or TV.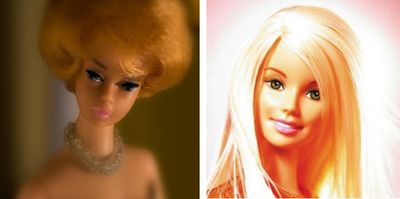 Lately, Mattel has taken Barbie into uncharted territory — the realm of pure fantasy — which crosses the line from aspirational into imaginary. With dolls like Barbie Fairytopia
and Mermaidia
(complete with mermaid tail), they contradict her original purpose of working through real-life desires by projection, and offer something more akin to fairy tales. Other Barbies, such as Birthday Barbie, seem to have absorbed this influence, and are starting to look a lot like Disney characters. This may make them magical and enchanting to her now very young audience, but the loss of a connection to reality makes this least glamorous evolution so far.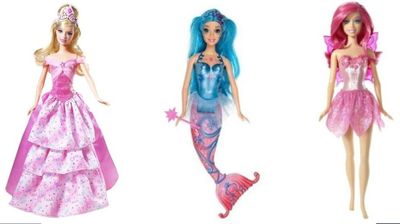 Of course, none of this is to say that any one incarnation of Barbie is better than any other, or that glamour is necessarily even still relevant to Barbie's role in American girl culture. After all, I came of age in an era when glamour was largely gone from the brand, and yet I loved my campy Barbie in her hot pink spandex and her fuschia dream house. But while my loyalty to 80s Barbie is unquestionable, there is little part of me that can't help but wish for a renaissance of that old-school Barbie, the kind of doll that would grace the pages of the The Sartorialist, rather than the aisles of Forever 21.