DG Q & A: The Foodinista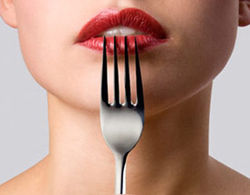 Deep Glamour's favoring a food-themed week, and to kick it off, we've subjected mystery blogger, The Foodinista, to our questions.
DG: How and when and why did chefs become glamorous? Didn't they used to be faintly comic--like Chef Boyardee?
TF: I would argue that Chef Boyardee has a certain chic about him. He can pull off a toque like nobody's business. But probably Julia Child started the ball rolling by bringing French fare into our homes in the 60s. From there, I would say the Food Network took it to the next level, turning chefs like Mario into gods. I have no other explanation for the popularity of Crocs in this country.

DG: Are some foods inherently more glamourous than others, or is it all in presentation?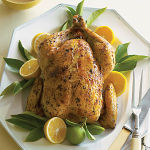 TF: It depends on your definition of glamour. Caviar is an obvious association with "glamour" simply because it is expensive and rare. I love caviar. But I also think a perfectly roasted chicken at a dinner party makes much more of a statement about good taste, and there are few things as elegant as a simple glass bowl filled with lemons. Aesthetically speaking, I'll take farmers markets over Fendi any day.

DG: Has all the emphasis in media on professional cooking intimidated home cooks?

TF: My prediction is that we're about to see a backlash to the celebrity chef phenomenon. I think we've stopped caring, or at least I have. We're much more interested in neighborhood restaurants where the chef is actually in there cooking honest, unpretentious, beautiful food. And it's the kind of food we're cooking at home now more than ever—much more focused on ingredients than showmanship. I would argue this shift away from fussy food wrought with laborious technique has empowered the home chef. We realize now that we don't have to spend five hours cooking in order to have people over to dinner. In fact, all the better if one is able to prepare a fast, easy and satisfying meal and spend time chatting with friends and family instead of hiding behind the scenes fretting over a sauce.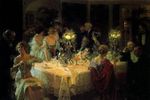 The DG Dozen
1) How do you define glamour? Or what makes someone or something glamorous?
Glamour is an inherent quality that makes someone or something more attractive.

2) Who or what is your glamorous icon? Charlotte Gainsbourg.

3) Is glamour a luxury or a necessity? Glamour is a necessary luxury.

4) Favorite glamorous movie? Darling.

5) What was your most glamorous moment? I'd love to say something romantic about sailing into the harbor at Portofino, but in reality I was on a tourist ferry not a yacht, so let's go with the first time I met Tom Ford—such a snapshot in time, which now seems so frivolous and far away during this very real recession. It was one of those magical L.A. evenings in the garden behind the Chateau. He commented on a white linen Chanel camelia I had pinned to an old denim jacket. We were at party for Stella McCartney, sipping vodka cocktails, and I was a huge fan of Ford's at the time. Patrick McMullan was snapping photos. Everyone looked gorgeous, and the lighting was perfect. It was such a great party.

6) Favorite glamorous object ? A string of pearls my parents gave me for my 16th birthday. I love to wear them with t-shirts.

7) Most glamorous place? The balcony of a lakefront suite at the Villa d'Este during a thunderstorm on Lake Como, where my husband and I spent our honeymoon. We ended up in a hot tub with Michael Bolton, which sort of dulled the patina.
8) Most glamorous job? Michelle Obama's.

9) Something or someone that other people find glamorous and you don't?
Juicy Couture

10) Something or someone that you find glamorous whose glamour is unrecognized?

Nancy Silverton. You will find her on any given night at Mozza—manning the pizza oven or the mozzarella bar—dressed to the nines in Marni, blood red lipstick and a simple apron. She somehow remains graceful under any amount of pressure.

11)Can glamour survive? People will always want to see a prettier version of themselves, which is why, for better or worse, we look to glossies and celluloid for escape instead of in the mirror. Conversely, reality television makes us feel better about looking in the mirror after having leafed through the latest issue of Vogue. It's a balancing act.

12) Is glamour something you're born with? Grace is something you're born with, and it certainly lends authenticity to glamour in a way that oversized sunglasses cannot.

EITHER/OR
1)Angelina Jolie or Cate Blanchett? Cate Blanchett
2)Paris or Venice? Paris for fashion/Venice Ghetto for food
3) New York or Los Angeles? Los Angeles
4) Princess Diana or Princess Grace? Grace
5)Tokyo or Kyoto? Kyoto
6) Boots or stilettos? Stilettos
7) Art Deco or Art Nouveau? Deco
8) Jaguar or Astin Martin? Aston Martin
9) Armani or Versace? Neither
10) Diana Vreeland or Anna Wintour? DV
11) Champagne or single malt? Champagne
1960s or 1980s? 60s
Diamonds or pearls? Pearls
Kate Moss or Naomi Campbell? Kate
Sean Connery or Daniel Craig? Sean Connery