Hotel Week: Bringing Glamour Back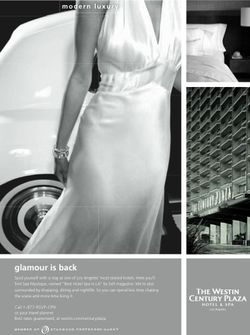 Glamour is fragile. It tends to vanish with too much time or scrutiny. In response, people are always promising to "bring glamour back" (or declaring that "glamour is back"). Such promises are particularly common in three industries: fashion, airlines, and hotels. In airlines, they're never fulfilled. In fashion, they often are. In hotels, there are more misses than hits.

Take the subject of this 2005 ad, the Century Plaza Hotel in Los Angeles. Designed by Minoru Yamasaki, the architect of the World Trade Center, the curved façade takes a good photo. But as a lived experience, the hotel offers little more than any other nice Hyatt. It does not inspire longing. Remodeling and a new spa did not change the hotel's cultural resonance.
In fact, preservationists are now fighting plans to demolish the Century Plaza to make way for a complex that would include two mixed-use towers and make Century City more pedestrian-friendly. The arguments for preservation implicitly acknowledge that the hotel has little emotional or aesthetic importance today. "It is among the purest representations of 1960s Los Angeles planning and architectural philosophy we have left," writes the LAT's Christopher Hawthorne--a back-handed compliment. The WaPost's Philip Kennicott called it "a hard building to love."
Hotel glamour isn't about what celebrities or presidents have frequented the building. It's about the yearnings the hotel conjures in its audience, the escape and transformation a visit promises to provide. No one understood that better than Morris Lapidus, the architect best known for designing the Fountainebleu and Eden Roc hotels in Miami Beach. He wrote:
I was convinced that just as a store had to be designed to make people want to buy what the merchant had to sell, so a hotel had something to sell also. What was that something? A home away from home? Absolutely not! Who wants a homey feeling on a vacation? The guests want to find a new experience—forget the office, the house, the kids, the bills. Anything but that good old homey feeling that the old hotels used to see with a comfortable bed, a nice rocker on the veranda, a good solid nourishing meal. Not on your life! We were coming out of the war and the postwar period. People wanted fun, excitement, and all of it against a background that was colorful, unexpected; in short, the visual excitement that made people want to buy—in this case, to buy the tropic luxury of a wonderful vacation of fun in the sun. A sense of freedom from the humdrum lives the guests had. A feeling of getting away from it all.

Lapidus was famous for features like the "stairway to nowhere," designed to give guests a platform from which to show off their finery. He made guests feel like stars. "Lapidus understood that a hotel lobby is a theater for amateur narcissists," writes Tom Austin in Travel & Leisure. Though critics denounced them as tacky, to their intended audience, Lapidus's hotels epitomized glamour. (For an excellent analysis of glamour in mid-century Miami Beach, see architectural historian Alice T. Friedman's 2000 Harvard Design Magazine article, "Glamour, Class, and Architecture in Miami Beach".)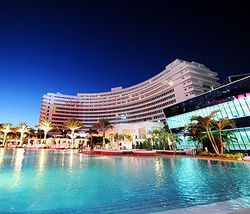 In succeeding decades, that glamour dissipated. (The Fountainebleu's builder went bankrupt in 1977.) The nouveau riche for whom the hotels were designed got old. Younger generations had different aspirations and ideals of luxury. But, after a $1 billion renovation, the Fountainebleu reopened last November. "The glamour is back at the Fontainebleau," declared the announcer at the hotel's opening celebration, which doubled as last year's Victoria's Secret Fashion Show.
Is the glamour really back? Unfortunately, I haven't persuaded any editors to fund a reporting trip to decide for myself. Matt Rudd of the London Times makes a good case that the hotel is just too big for glamour: "In order to fill anything like 1,500 rooms, you need thousands of people, and they can't all be Frank Sinatra." Glamour requires mystery and exclusivity--and a lot fewer truck-parts conventions.
It is possible to bring glamour back to a hotel that has lost it, but "glamour" can't just mean luxury or a history of association with dead celebrities. I thought the Palmer House in Chicago might have made it work, by playing up its architectural appeal, but complaints about small rooms and mini-beds suggest that modern standards may conflict with historic floor plans. (I have no first-hand experience.)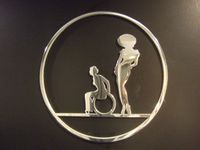 The https://www.google.com/url?q=h...Riviera in Palm Springs has had more success. It's got the luxury and dead celebs, plus the Hollywood Regency decor that sometimes gets called "modern glamour
." But what makes the Riviera's glamour convincing is the hotel's intimacy, which makes guests feel like they've entered a special world. and, most important to me, the occasion of my stay there: the (simulcast of the) 2009 TED Conference, which features (as one blogger put it) "the glamour of intellectual power wrapped in exclusivity." Plus, you can't beat the Riviera's restroom signs.
["Stairway to nowhere" photo by Gottscho-Schleisner, Inc., public domain Library of Congress collection. Riviera restroom sign photo by Virginia Postrel.]
---advertisement---