Hotel Week: Andrew Sandoval-Strausz On The Social History Of Hotels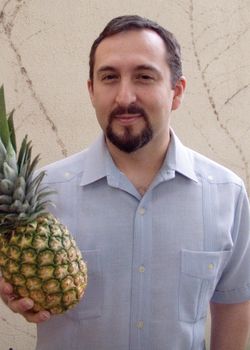 The American hotel is not just a place to stay but a revolutionary institution, embodying hospitality as a liberal value and delivering once-elite services in a mass, democratic form. So argues historian Andrew K. Sandoval-Strausz in Hotel: An American History
. With its combination business, legal, and social history, the book offers a new way of seeing an industry we think we know.
Writing in the NYT Book Review Dominique Browning called the book "dense, ambitious and valuable," concluding, "I will never again check into a hotel without thinking of myself as an ambassador of peace; that alone, with its profound implications, makes this thoughtful book worthwhile." (It also gave her "an entirely new take on spoiled, bratty, neglected, charming Eloise, living at the Plaza.") "This brilliant history," wrote Kerry Howley in Reason, "is a reminder that the fear of the traveling stranger is something we have overcome before."
An assistant professor of history at the University of New Mexico, Andrew is currently editing a special issue of Winterthur Portfolio on the subject of business architecture. We're delighted he was willing to contribute to Hotel Week.
DG: How did you get interested in hotels?
Andrew Sandoval-Strausz: It happened rather by chance. In the spring of 1996 I was in my second year of graduate school, and looking for a dissertation topic. While attending a historians' conference, I spent some time in the beautiful second-floor lobby at the Palmer House in Chicago. As I watched the people come and go, I began to think about interactions among total strangers and how fraught they could be with delight, temptation, and danger—especially at a place with lots of alcohol and lots of beds. What if I were to write a history of hotels, with all their attendant elegance, naughtiness, and political intrigue? "Now, that," I thought, "would be a guaranteed non-boring Ph.D. thesis!"
Palmer House lobby
DG: You write, "It is extremely easy for people to say one thing and do another....But when they construct a building—especially a large and complex one like a hotel—it is harder to argue that they didn't really mean it." What were the people who built America's hotels saying?
Sandoval-Strausz: They were extending a welcome to strangers and outsiders in a way that hadn't been done in America for almost 200 years. From the beginnings of European settlement in the early 1600s until the first hotels in the 1790s, Americans offered travelers only the most rudimentary of accommodations. European wayfarers who wrote about hospitality here were constantly complaining about bad food, overcharging, filth, vermin, and having to share beds with complete strangers. Moreover, many American communities had laws allowing them to inspect, interrogate, and eject anyone who was in a town other than their home community. But when people in the early United States started devoting enormous amounts of money, creativity, labor, and building materials to building a new class of public accommodations, it was an unmistakable sign that they had changed their views of outsiders, deciding to welcome them in style instead of viewing them with suspicion.
DG: You note that in the 19th-century guests spent very little time in their hotel rooms and that travel writers and journalists focused almost all their attention on the public areas of hotels. Why?
Sandoval-Strausz: Leading hotels at that time weren't just about paying for a bed and a bath—they were places people went to see and be seen, to enjoy the pleasure of being in public. The entire approach to being a hotel guest was fundamentally sociable, so who would want to stay cooped up in their room? Hotel rooms were very small and plain then; it was the public areas—the lobby, dining rooms, lounges, bars, and the like—that hotelkeepers worked hardest to make beautiful.
DG: How was the role of a 19th-century hotel lobby different from the role of such a lobby today?
Sandoval-Strausz: In some respects I think today's hotel lobbies are moving back toward the role they played a century and a half ago. After the past few decades, during which lobbies were becoming sparse, sterile spaces that were no more than waiting areas for people who wanted to go upstairs, hoteliers have again begun to see them as important gathering-places for their neighborhoods. In the nineteenth century, the lobby was the most exciting space in the entire building. Hotelkeepers spent enormous amounts of money on carpets, furniture, draperies, and other elements of décor so that they could attract people to their premises. Indeed, hotel lobbies were such important social and business centers that the majority of people in them weren't travelers at all, but locals who simply wanted to meet friends or do business in the most vital and glamorous place in town.
DG: Today's hotel guests tend to be baffled by the idea that an "American plan" means meals are included. What is the origin of this term? What was the appeal of the 19th-century hotel dining room?
Sandoval-Strausz: This term originated at a time when European travelers expected to take their meals privately, in their rooms. Americans thought this was impardonably rude: in a country based on the idea that "all men are created equal," it was seen as snobbish and antisocial to want to keep your distance from others. The "American plan," in which your room charge automatically included meals eaten in a common dining room, expressed the idea that it was proper to eat at long tables alongside your fellow citizens. For Americans, this was both a way of expressing their ideals about equality and democracy and an opportunity to put on a nice change of clothes and enjoy a banquet-like experience in a grand dining hall.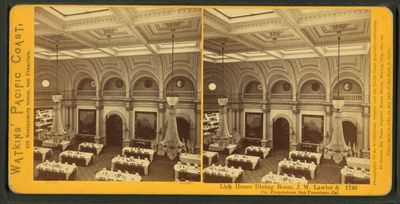 Stereoscopic view of Lick House dining room, San Francisco
DG: Luxury hotels play a prominent role in the movies of the 1930s and '40s, with wealthy characters often living in hotels for long periods of time (sometimes permanently). How common were such living arrangements? What was the appeal of living in a hotel rather than in an apartment or house?
Sandoval-Strausz: They were very common, and not just in the 1930s and 1940s. More than a hundred years before, people recognized that living in a hotel was very convenient because so much of the everyday drudgery of living would be handled by the hotel staff. If you had the resources, you didn't have to worry about cooking, cleaning, or laundry because hotel chefs, chambermaids, and washerwomen would do the work. Hotel living allowed single people and families to enjoy services and amenities that were usually only available to those with private servants.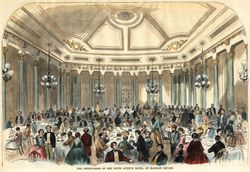 DG: In the mid-19th century, critics decried the rise of hotel living for corroding family life while reformers saw hotels as a model for efficient domesticity, with shared cooking, laundry, and other services. Why did hotel living die out in the 20th century?
Sandoval-Strausz: This was in substantial part the result of housing policies that began in the 1930s and the prosperity of the 1950s and after. Under Franklin Roosevelt, the federal government brought mortgage rates down much lower than they'd ever been; and in the post-World War II period, the U.S. became the most prosperous nation that had ever existed. The combination of the two led to many people being able to afford the kind of freestanding, single-family house that was idealized for so many years in Anglo-American culture.
DG: Do hotels today represent an extension of ordinary domestic life or an escape from it? Has that changed over time?
Sandoval-Strausz: These days it's definitely an escape, if the way they are advertised is anything to go by. Over the past ten or fifteen years, hotel companies have been emphasizing the specialness and glamour of staying at a hotel. For travelers, it's the promise of something exotic, or historic, or especially hip—but in all cases different from your workaday routine. They're also advertising in-town escapes, as when they try to draw married couples in for sexy weekends away from the kids and household responsibilities. This has indeed changed over time. In some eras, hotelkeepers tried to emphasize that hotels offered all the comforts of home: they gave guests personalized attention, tried to make the entire hotel seem like an extended family, and so on—indeed, hoteliers in the nineteenth century would often stand at the head table in their dining room and cut the roast for the guests, thus taking on the symbolic role of the head of a regular household. In other eras, they emphasized the predictability and machine-like efficiency of their operations, featuring anything from a large-capacity steam-driven laundry machine to a modern electric elevator to a corps of dining room waiters who served with military precision.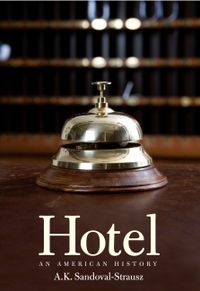 DG: What makes a hotel glamorous?
Sandoval-Strausz: It could be any of a few things. Many historic hotels are glamorous because of their incredible architecture: some of the most elegant hotels in the country—the Plaza, the Fairmont, the Blackstone—were built about a century ago, at a time when hotel builders spared no expense on elaborate ornamentation and décor. Some recent establishments, like the leading W Hotels locations, offer up-to-the-minute style and the latest in architecture and materials, using a modern minimalist visual vocabulary to dazzle and intrigue. And still others, like La Fonda in Santa Fe or the Peabody in Memphis, simply express the local culture perfectly, expressing confidence in their vernacular heritage and charm.
DG: Do you have a favorite hotel or hotel experience?
Sandoval-Strausz: This takes me back to the initial inspiration for my book. I like just sitting and having a drink in an elegant hotel bar or hotel lobby, watching what people do. They may smile or they may complain, they may look exhausted at the end of a long flight or exhilarated at the prospect of a night on the town, they may be giving a hug to old friends or flirting with someone cute whom they've just met. But they're always up to something interesting, because if they wanted to be boring, they'd have just stayed at home.
To see a Slate slide show of hotel photos, with text by Andrew Sandoval-Strausz, go here.
[Palmer House lobby by Flickr user WhatCouldPossiblyGoWrong? under Creative Commons license. United States Hotel lobby, Saratoga Springs, New York, 1876, and Fifth Avenue Hotel dining room, courtesy of Andrew Sandoval-Strausz. Lick House dining room, San Francisco, courtesy of New York Public Library digital gallery.]
---advertisement---